I said at the end of my last income report for March 2021 that my goal for April was to publish 50 pieces of content across my sites (plus a few YouTube videos).
To some folks that may not sound like a lot at all. To others it might sound insane! All depends on your publishing model and where you're at in your journey.
For me it was a big goal and a lot more than I usually publish in a month.
So did I manage to get it all done?!
Not quite... I managed to get 44 articles published in the month of April.
That's still quite a bit more than I usually pull off (around 30 or so has been average the past few months) – a little further down I'll explain what went right and what went wrong in my content push.
But let's get into the actual income numbers for the month.
First, if you don't know about me and my publishing my business, here's the scoop:
I run a couple of niche blogs or websites where I publish (what I think is) really good content. Most of it is discovered by people searching on Google. I monetize that traffic primarily with ads, so the more traffic I get, the more money I make – although I also recommend products here and there and earn affiliate commissions for those sales.
(The split on most of my sites is somewhere around 60% ads and 40% affiliate, with the ad share growing over time.)
I started my first site in April of 2017 and went full-time running it in February of 2018 – way too soon! It was making a little money but not much. I hustled my ass off and picked up freelance work for a while until I could scale the business up.
Here's where it all stands in monthly revenue as of April 2021:
Site 1 - $6,045.05
Site 2 - $3,681.69
Amazon Int'l (all sites combined) - $306.79
Total - $10,033.53 (March 10,577.57, February $9,231.56, January $10,686.46)
Last April (2020) I made about $8239 — so this is solid improvement year over year. Like last month, though, it's a bit skewed by the affiliate numbers.
People were buying like crazy on Amazon and other online merchants this time in 2020 due to the pandemic. This year, that's slowed down a ton — and affiliate revenue seems even slower than usual since the Google Product Review Update went live, though I haven't had time to dive into specific page-level performance yet.
Note that not all of this is profit: So how much does it cost to run my blogging business every month? I won't bore you with a ton of line items, but basically (outside of what I pay myself):
Recurring expenses (tools, hosting, etc) $500
Content (articles & video) $2500
Total - Around $3000
Here's a recap of what I'm working on, plus some wins and losses from this month.
Site 1 - Fitness & Health
Live articles - 422 (+25)
Total pageviews- 164,907 (+3.07%)
Total revenue - $6,045.05 (March $6,266.38, February $5,438.17, January $6,579.69)
YouTube Views - 14,471 (March 5,098, February 1,447, January 895) +28 subscribers
What happened & what I'm working on:
I keep saying it again and again.
I have tons and tons of ideas for this site and I can't get content up fast enough.
I put most of my content push into this site and was able to get 25 new posts up this month. Hopefully I can sustain that level or maybe even improve on it as I get up to speed with my new editor.
And again, YouTube is killing it.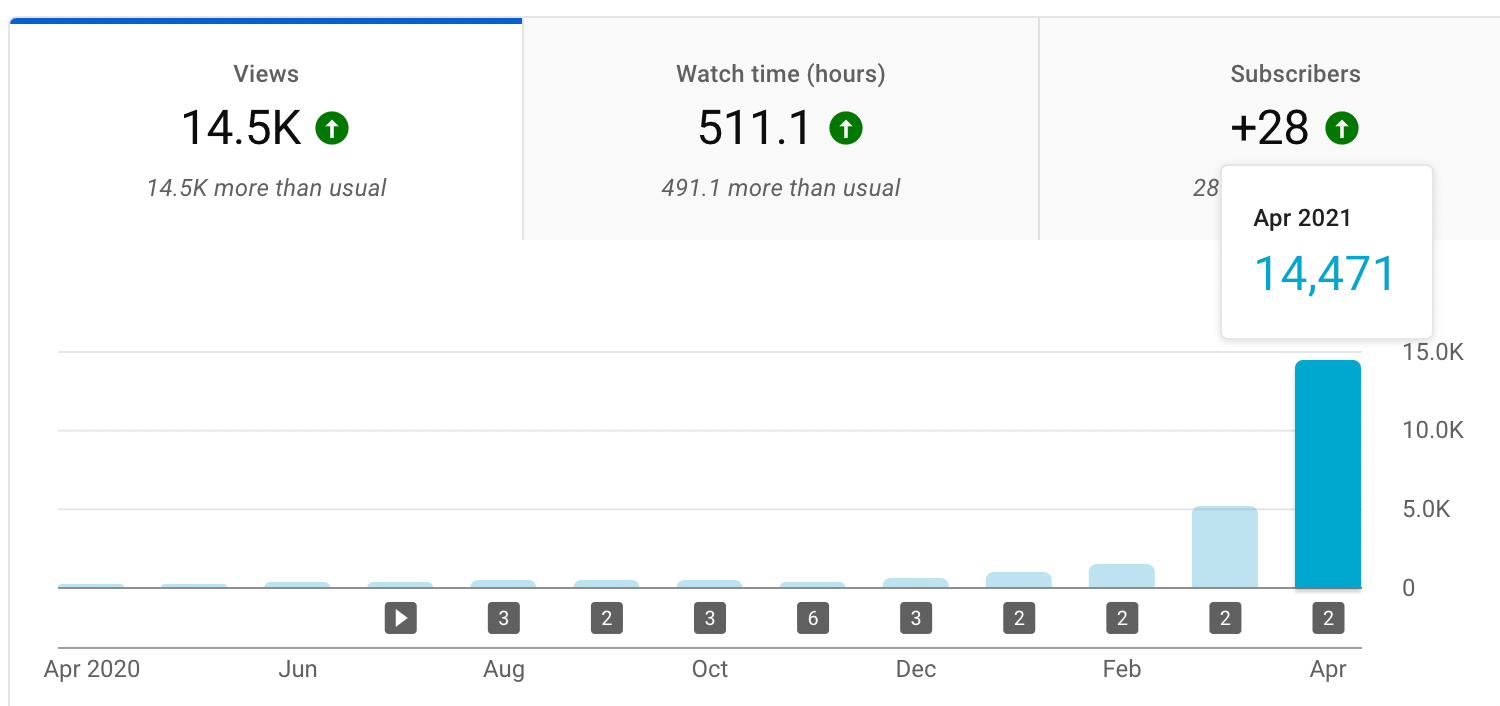 The views and incoming subscribers nearly tripled versus last month.
I'm starting to get a better idea of what performs well, though it's still a bit hit or miss at times.
I'm unfortunately still a pretty long way away from monetizing. Remember, you need 1000 subscribers and 4,000 hours of watch time in a year.
I'm hopeful I can continue to see growth and improvement (though I don't expect it to triple every month!) and hit those numbers in around 6 months.
Site 2 - Parenting & Family
Live articles - 256 (+19)
Total pageviews - 111,979 (-17.59&)
Total revenue - $,3681.69 (March $4033.52, February $3455.25, January $3538.08)
What happened & what I'm working on:
This site took a bit of a hit this month and I'm not sure why.
Traffic was down mostly across the board, not just on product reviews/roundups.
It could have been a casualty of the Product Reviews Update — I've heard other folks say their informational content took a hit this past month.
It' still making really solid money though, so I can't complain.
I'm not as excited about this site as my Fitness blog, but I have some solid keyword opportunities to pursue and I'd like to get this one earning $5k/month in mostly ad revenue soon.
Odds & Ends
Last month I talked about my goal of publishing 50 posts and what I would need to do to make it happen.
I was able to bring in another writer or two that I like, and I'm working on getting up to speed with a new editor.
So those things are wins!
Where I ultimately fell short was penciling myself in to write too many posts.
I've been trying to take on a bunch of relatively short, simple posts that I can knock out quickly.
But with so many posts from writers coming in, there's just been too much to edit.
Even with an editor onboard, I'm not sure I ever see myself not having a hands-on role in the content before it gets published.
That means it's tough to find time to write, even though I enjoy doing it.
I ended up dropping the ball on a few posts I was supposed to write. And then there were 3 I got back from a writer that I wasn't able to finish final touches on until the first Monday of May ——
—— but that hardly counts! Sure, I didn't hit my goal of 50, but those 3 got published in pretty short order, which puts me at around 47 for the month of April + a few days.
Not half bad.
I'm proud of the effort and the result, and I'd like to try to stay in that zone of publishing 35-45 posts per month right now.
Doing hands-on editing and a little bit of writing aren't things I want to give up quite yet, so I'll have to do my best with those constraints.
Wrapping Up
The business is still chillin' right around the $10k per month mark, which is a good place to be.
It allows me to take home a respectable if not world-beating salary — and spend a respectable if not world-beating $2000 to $3000 on new content every month.
I expect to see the fruits of all of this labor in the fall when ad revenue begins to spike. Late in 2020, I was bringing in $11-13k per month, so hopefully I can hit some exciting new Personal Bests when that season comes around again this year.
Back to work!
Before you go, check out my blogging tools page for everything I use to run my sites or my how to start a blog guide for my basic strategy.