I quit my job in February 2018.
I still remember people (including myself) thinking I was crazy.
I had no backup plan. A decent amount of savings. No leads on a new job.
All I had was a small blog making a couple of hundred dollars per month, a dream, and the confidence that I could make it happen.
Today I'm pretty proud to say that I've been working full-time as a blogger, freelancer, and Internet marketer for over a year now.
If you've ever wondered what it might be like working on your own blog or blogs for a living, here's what a typical day in my life as a professional blogger looks like:
The 11 things I do every day (or at least one or twice per week) are:
---
1. Monitor website traffic, rankings & search performance
I do this every day, usually first thing in the morning.
(If I'm being honest, I check real-time traffic in Google Analytics pretty frequently throughout the day for my sites.)
It's a bad habit and one I truly, desperately need to break, but what can I say... I love what I've built and I always want to know how it's doing.
(I heard someone smart say once that you should only check traffic once per month, then you can compare it to the same month last year to see the true growth. I'll let you know if I ever develop this level of self-control.)
But more important than the total traffic my sites get on a given day is keeping tabs on:
Google search rankings for important keywords
Monitoring orgranic traffic growth or trends
I wish I could tell you that I had a great system for tracking rankings, but I don't. I really don't see much value in paying for services that do this for you, unless you get it rolled into a bigger service like Ahrefs, which I love.
I just know in the back of my head what my important keywords are, which ones I have good rankings on that I need to hold, and which ones I want to see growth on. Then I check these intermittently by Googling the phrases in an incognito window to see where I'm at.
I just try to keep a basic pulse on this.
As for organic traffic trends, I watch the Google Search Console pretty carefully. Every morning I check to see how my graph looks for each site and if there are any major dips, I try to figure out why that might be.

---
2. Track affiliate and advertising revenue
This is another one I tend to do first thing every single morning, but I can see myself slowly moving away from it as I develop more and more independent revenue streams.
(At some point, it just becomes too cumbersome and time consuming to monitor that frequently.)
When I open my laptop in the morning, the first things I check are:
Amazon Affiliate earnings
Ad revenue (I use MediaVine on my sites)
Revenue from an independent affiliate
Those are my three biggest sources of income, so I keep tabs on them and track my monthly total each day in a simple spreadsheet.
I like to see it all in one place in real-time so I can know how the month is going, though honestly this is probably another area that I should pull back from and just check once or twice per month.
Hey, I'm not perfect!
I also promote some products on places like:
Click Junction
ShareaSale
Refersion
Impact
And other affiliate marketplaces
I don't always check each of these every day because they aren't as frequent earners as the other programs.
As far as I know, no one has developed a good dashboard that lets you see all of this in one place. Let me know in the comments if you know of a good solution... because that's a lot of logging in!

---
3. Stay active on Pinterest
Both of my websites are great fits for Pinterest, topic-wise.
So for a while I was EXTREMELY active there:
Pinning 5-10 pins per day
Creating multiple new pin images for each new post
Creating and populating my boards
Following other pinners
Etc
And the thing is... it worked!
My Pinterest traffic grew like crazy.
However, I found I really loathed the work and the return on my time got worse and worse as I did more and more.
So today I opt for a pretty hands-off approach that looks like this:
I create a new pin image for every new post I publish
I pin that manually to my main board for each account
I use Tailwind to maintain a Smart Loop of my best performing pins, which means I'm always being active on the platform and resharing my best content
That's pretty much it! This new lower effort strategy has been working great and takes almost none of my time.
It's allowed my "base" Pinterest traffic to slowly grow, and then of course there are the occasional spikes when something goes viral, which is pretty exciting.
But Tailwind can do WAY more for you than that. Check it out here to find out more about how it can grow your blog (that's an affiliate link, by the way.)
---
4. Keyword research
I don't do new keyword research every day, but I'll typically at least poke around with it once a week or so.
In general I tend to batch my keyword research so I can find a bunch of article ideas at once and work off of that list for a while.
What's my favorite tool for keyword research?
Most of the time, it's Google itself!
I pretty frequently make use of the "alphabet soup" method, where you type stem keywords into the Google search box and use a combination of:
Google autocomplete and autosuggest
Related search
Amd "People also ask"
To find keyword ideas.
I pair this with a simple, free plugin called Keywords Everywhere that gives me quick search volume estimates as I go.
I've also had incredible success using Ahrefs for advanced keyword research, but right now I'm on the fence about whether I want to pay for it every month.
And speaking of right now, my main focus these days is finding content series keyword ideas so I can scale up my production, and thus traffic and revenue. Click the link for my explanation.
---
5. Write new content
Self-explanatory!
There are a lot of ways to grow a blogging business, but the simplest way is usually to create more content.
If you have 30 posts on your site and it maeks $1000 per month, what do you think will happen when you have 60 posts?
Yeah, exactly!
I still write most of the content for my sites. I like doing the writing, and I'm pretty protective of the voice and my content.
There are certain things that I am willing to outsource (see below), but I try to write a lot of things that require my own insight or hands-on experience, that way no one else can duplicate them.
(At least, not easily.)
I tend to work in phases. Sometimes I'm adding a lot of content, other times I'll work on other things.
But in general, I'd say I add at least one or two new posts to my blogs most weeks.
---
6. Work out
One of my favorite parts of my job is that I can walk away whenever I want to go do something else.
I exercise this right most often by going to the gym almost every day around lunch time.
A lot of people are able to do this during their lunch breaks at work, but I never really have to worry about meetings, time, who's looking over my shoulder, or needing to be back at a certain point.
It's really, really nice. And I like to take a second every now and then to just appreciate that I'm able to do that.
(I also think I'd go nuts if I didn't get away from the screen and get my body moving every day.)
---
7. Work with freelancers & contractors
I like to run a lean shop, so I don't keep any employees. Not even a dedicated VA.
But occasionally I will get excited about adding a lot of new content to my site, and I'll turn to freelancers to help me execute some of it.
I haven't tried a content writing service yet, but I've had pretty good success overall hiring writers from Upwork.
Have you used a content writing service? Which one would you recommend?
---
8. Basic business accounting
Ah yeah, the fun stuff!
At the end of the day, as soon as you start making money from you blog, it becomes a business.
In the early days, I just kind of considered it a little bit of extra cash.
But these days I've made a lot of changes to start treating my business like, well, a proper business:
I formed an LLC and filed for S-corp election
I opened business bank accounts separate from my personal accounts
I started using one of my credit cards exclusively for business expenses
I started using an accountant for tax purposes
And I just got signed up with some proper bookkeeping software
I just got myself set up with Freshbooks for doing all of my blogging business accounting and so far it's been great.
There are a few small things here and there I wish were easier, but I love how easy it is to get a top line view of how the business is doing (not just each individual site).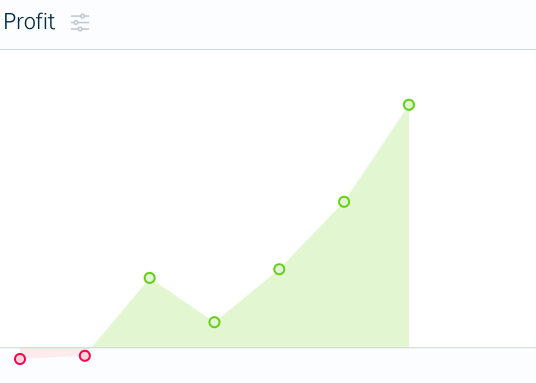 This task gets more and more crucial the more revenue streams and expenses you have, and of course these both continue to grow as your business expands.
You can get started with a free trial of Freshbooks right here (that's an affiliate link, by the way.)
---
9. Big picture planning & strategy
I make a pretty decent living from my blogs.
But my goals for the business are SO much bigger than that.
And truthfully, the kind of stuff that took you from nothing to a few thousand dollars per month is probably NOT the same stuff that's going to allow you to one day make 10, 15, or even $20,000 per month.
(That's where I have my sights set these days.)
So every so often I need to carve out time to really take a step back and get out of the weeds. I need to think about what's working in my business, what's not, new things I can try, and where my time is best spent.
I also need to frequently ask myself if I'm actually enjoying what I'm working on, and if not, how I can change things up.
There are multiple ways to grow the business. Sometimes I'll work on something that's less efficient because it seems like more fun.
These occasional strategy and planning brainstorms really help.
---
9. Optimizations & problem-solving
Just because something is working doesn't mean it's working as well as it should be.
And sometimes my time is better spent tweaking and optimizing content that's already performing rather than starting new and spending hours creating new content.
For example, I might:
Add content to a post so it'll rank better or draw more longtail traffic
Tweak my calls-to-action on certain posts to better monetize them
Find new affiliate offers to shout-out in informational posts
Change the way I'm enticing people to join my email list
Etc
Oh, and of course, sometimes stuff DOESN'T work.
My sites have gone down before. Stuff breaks.
That's when I need to put my problem-solving hat on and figure out what the hell is going on, because time the websites are down is money lost!
---
10. Connecting with other bloggers, marketers & entrepreneurs
Being a solopreneur is kind of a lonely game sometimes.
So I always try to make time every week to connect with other people doing interesting things.
I'll:
Grab drinks with friends who also run online business
Participate in the JustStart community (my favorite subreddit)
Or even write here on this blog, to learn by teaching and connect with you guys
It's for this exact reason that I recently moved into a coworking space. I work there a few hours per day now just to get out of the house and feed off the energy of other smart people doing cool things.
---
11. Learning
Learning by doing has been the thing that's served me best, but I find I can ALWAYS pick up new nuggets from smart people.
(Plus, you still need to stay motivated and inspired, no matter how well you're doing.)
Some of my favorite learning content to consume:
Doug Cunnington / Niche Site Project on YouTube and podcast
Income School on YouTube
Do You Even Blog? podcast
The Tropical MBA podcast
The Tim Ferris Show podcast
Empire Flippers & Web Equity Show podcasts
---
Wrapping Up
So that's pretty much all of the stuff I do in a given day or week as a full-time blogger!
My exact schedule will vary day to day, but I usually spend about half the day writing something and half the day doing other tasks on the list — though that can change depending on where my focus is at the time.
I hope you found this interesting!
Hit me in the comments if you have any questions. I always love talking shop!
And check out my list of tools that helped me build a successful blogging business. I couldn't do any of this without at least a few of them!