There are a couple of things that really suck about February:
First, any excitement that comes from a new year and/or post-holiday splurge dies off in gruesome fashion.
Second, February usually only has 28 days — losing 2-3 days out of the month can really hurt your revenue when your sites make good money each day.
Third, February is one of the coldest, darkest, and wettest months of the year, making it pretty much miserable all around.
So for those reasons and a few others, February was the worst month my business has had in a while – but the future still looks bright.
Let's take a look at the numbers, but first...
If you don't know about me and my publishing my business, here's the scoop:
I run a couple of niche blogs or websites where I publish (what I think is) really good content. Most of it is discovered by people searching on Google. I monetize that traffic primarily with ads, so the more traffic I get, the more money I make – although I also recommend products here and there and earn affiliate commissions for those sales.
(The split on most of my sites is somewhere around 60% ads and 40% affiliate, with the ad share growing over time.)
I started my first site in April of 2017 and went full-time running it in February of 2018 – way too soon! It was making a little money but not much. I hustled my ass off and picked up freelance work for a while until I could scale the business up.
Here's where it all stands in monthly revenue as of February 2021:
Site 1 - $5,438.17
Site 2 - $3,455.25
Site 3 - $72.01
Amazon Int'l (all sites combined) - $266.13
Total - $9,231.56 (January $10,686.46, December $12,209.11)
Going below the 10k mark is a bit of a bummer but it shouldn't be too much of a surprise with all the trappings of Q1 working against me.
For reference, my sites made about $6500 in February of 2020 so, all-in-all, I've made some big strides this past year.
Note that not all of this is profit: So how much does it cost to run my blogging business every month? I won't bore you with a ton of line items, but basically (outside of what I pay myself):
Recurring expenses (tools, hosting, etc) $500
Content (articles & video) $2500
Total - Around $3000
Here's a recap of what I'm working on, plus some wins and losses from this month.
Site 1 - Fitness & Health
Live articles - 376 (+20)
Total pageviews- 146,917 (-14.29%)
Total revenue - $5,438.17 (January $6,579.69 , Dec $7,359.64)
YouTube Views - 1,447 (January 895, December 585), +2 subscribers
What happened & what I'm working on:
There's actually a lot to like about this site right now despite the crummy February revenue.
I had my best month in a long while adding content. I outsourced more or less my usual amount but managed to sit down and write a handful of posts myself for a total of 20 new articles this month.
Traffic was up year over year about 15%
A high paying affiliate I used to promote cut their program a while back but it just came back online, which is huge news. At its peak I was making $1500-2000 per month with just this one program & brand.
YouTube is growing like crazy right now. I don't have any viral hits or anything, but I'm getting over 1,000 views per month and growing rapidly.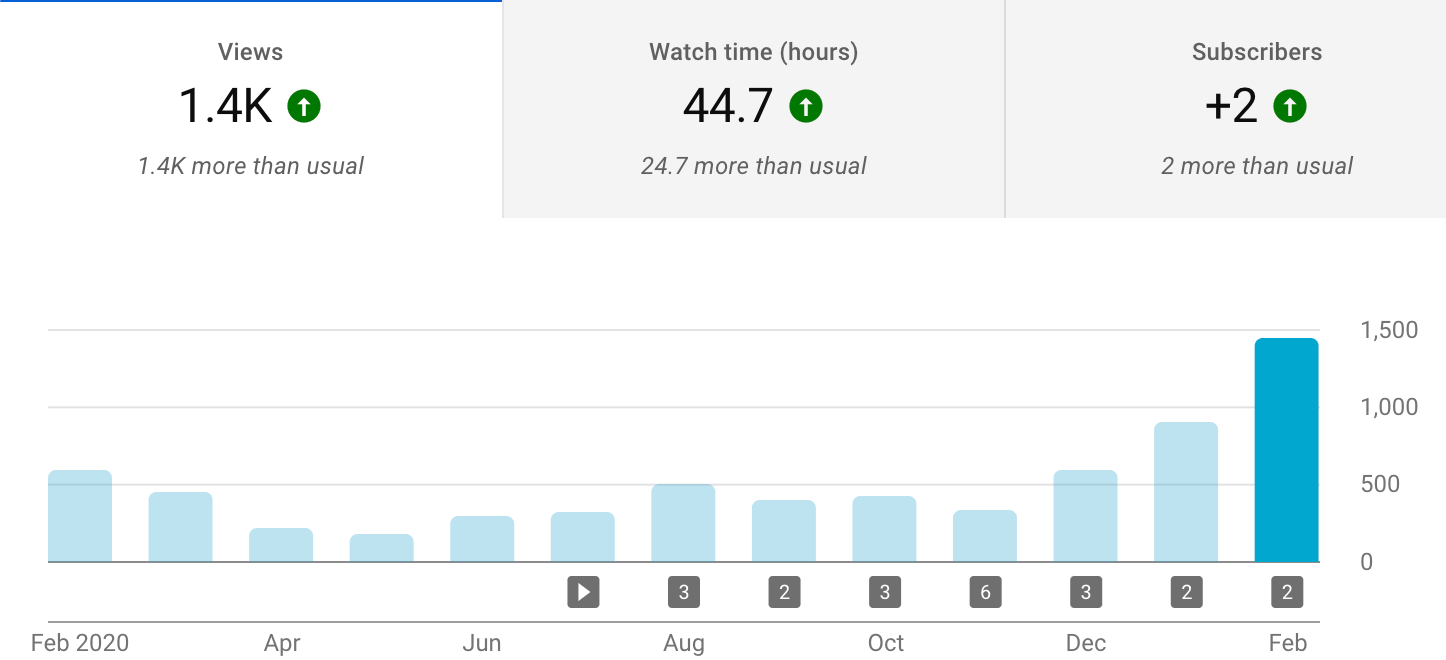 I'm still pretty far off from qualifying for YouTube monetization, especially because the subscribers are slow to come in. But I'm gaining steam and that's enough for me to keep investing.
I expect big things from this site in March , where it saw a big upturn in 2020.
Site 2 - Parenting & Family
Live articles - 225 (+10)
Total pageviews - 134,778 (-8.9%)
Total revenue - $3538.08 (Dec $4342.16, Nov $4,212.66)
What happened & what I'm working on:
I've been really focusing a lot on Site 1, the fitness site, since it's showing so many promising signs.
But I'm continuing to put up content here on the parenting site and I have a few new fun keyword areas to explore.
This site continues to crush it on a traffic per article basis, so it's an excellent investment.
Not a whole lot to report. Onward!
Site 3 - Obscure Hobby
This site has shown some solid traffic growth over the past couple of months...
... which is great news for the new owners!
Yes, I have sold this site — my first sale ever, which has been an industry bucket list item for me for a while.
I won't be reporting on this site anymore.
Hopefully I'll eventually be able to share a little bit of the story behind how this sale came about — it wasn't through the usual channels.
But for now it's in great hands and I'm going to focus my time and energy on my bigger earners.
Odds & Ends
It has been amazing getting to write for my own sites again.
Even if it's just a handful of posts per month.
I know a lot of people in this industry have full time jobs and invest 100% of their earnings back into the business.
But since I do this full-time now, I need to contribute a predictable and respectable salary to my family household. That means I don't want to completely break the bank buying content every month.
It's a delicate balance of paying myself (so we can pay bills and pursue other savings and investment methods) and investing back in the business.
But when I get to actually create content myself, it feels like a huge win. Like free, found money!
Hoping to do more and more of that as the world starts to return to regularly scheduled programming.
For now, however, that's still a challenge. Outside of essential business tasks, I am a complete mess and there's really no routine or predictable schedule in the household. It's a miracle I've been able to get as much done as I have, honestly.
Wrapping Up
So long story short, February looks pretty bad on paper but I still think I'm really positioned for a strong 2021.
Revenue is up something like 40% over last year at this same point in time, so I have to take that as a huge win.
Before you go, check out my blogging tools page for everything I use to run my sites or my how to start a blog guide for my basic strategy.
See ya