March marked roughly the 1 year mark since the start of COVID and pandemic lockdown.
Which makes for some really interesting trends and year-over-year data.
I'm happy to say that my blogs have never performed better, overall! Traffic and ad revenue is WAY up over this same time last year.
However, if you remember the insane online shopping surge in March of last year, you won't be surprised that my affiliate and, mostly, Amazon earnings are way down in 2021.
Outside of that extremely bizarre comparison, I'm pretty happy with where the month ended up. Let's take a look.
First, if you don't know about me and my publishing my business, here's the scoop:
I run a couple of niche blogs or websites where I publish (what I think is) really good content. Most of it is discovered by people searching on Google. I monetize that traffic primarily with ads, so the more traffic I get, the more money I make – although I also recommend products here and there and earn affiliate commissions for those sales.
(The split on most of my sites is somewhere around 60% ads and 40% affiliate, with the ad share growing over time.)
I started my first site in April of 2017 and went full-time running it in February of 2018 – way too soon! It was making a little money but not much. I hustled my ass off and picked up freelance work for a while until I could scale the business up.
Here's where it all stands in monthly revenue as of March 2021:
Site 1 - $6266.38
Site 2 - $4033.52
Amazon Int'l (all sites combined) - $277.67
Total - $10,577.57 (February $9,231.56, January $10,686.46)
Last March, I made about $6,000 on Amazon ALONE — as people were buying like crazy, especially fitness equipment for home workouts.
That number was way down, but all the other numbers that count are up. 2021's March total of $10,577 is still a slight improvement on 2020's (roughly) $9,000 — so even with that Amazon number leveling off, performance is looking good.
Note that not all of this is profit: So how much does it cost to run my blogging business every month? I won't bore you with a ton of line items, but basically (outside of what I pay myself):
Recurring expenses (tools, hosting, etc) $500
Content (articles & video) $2500
Total - Around $3000
Here's a recap of what I'm working on, plus some wins and losses from this month.
Site 1 - Fitness & Health
Live articles - 397 (+20)
Total pageviews- 159,997(+8.9%)
Total revenue - $6,266.38 (February $5,438.17, January $6,579.69)
YouTube Views - 5,098 (February 1,447, January 895) +10 subscribers
What happened & what I'm working on:
A couple of exciting things worth noting here;
YouTube is really taking off for me. I said that last month and the channel more than doubled again. Subscribers are still slow but I do think they'll come in as the views grow and I get more content on the channel. Most of the growth is coming from just a few videos but the rising tide should raise all boats.
I just keep finding keywords for this site. My other blog, in the parenting space, I consistently struggle to get inspired with keyword research — but I find new exciting avenues all the time with this one. I'm about to publish my 400th post and I think this site can easily grow to over 1,000 pieces of content and beyond.
My previous editor unfortunately left to take on a full-time gig, so I was flying solo for a while. I've just started working with a new editor and I'm hoping to really get the process back up and firing at a high level again with less involvement from me.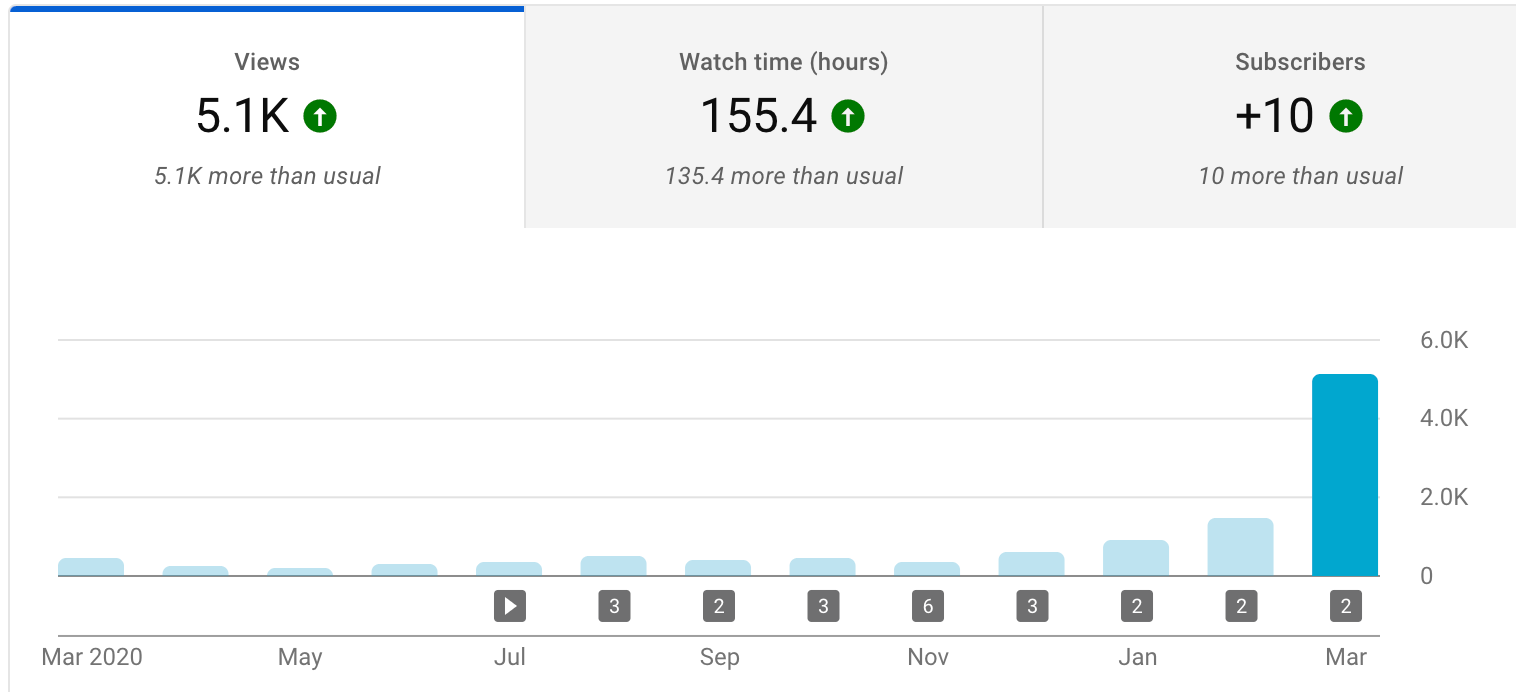 Last year, this site really came back down to Earth after the initial pandemic shopping surge settled down, but slowly picked up over the summer.
I've been publishing a lot of content lately and I'm hopeful that starts to really pay off for me soon.
Site 2 - Parenting & Family
Live articles - 237 (+12)
Total pageviews - 135,881 (+0.82%)
Total revenue - $4033.52 (February $3455.25, January $3538.08)
What happened & what I'm working on:
This site continues to do really well on a traffic and revenue per article basis.
There are just fewer duds on this site than I see on my fitness site (although still plenty! That's just part of the model).
So it's a good investment for me to keep publishing content. Even though I'm not feeling particularly jazzed about this site, I'll happily take a low maintenance blog making $4k per month.
Traffic has dipped a ton over the past week so I'll keep an eye on that, but it could be a spring break seasonal sort of thing.
Odds & Ends
I get so wrapped up in the day to day (check Analytics and revenue, do keyword research, create briefs for writers, edit and publish content) that I sometimes go months without really changing anything or leveling up in any way.
I've been feeling a little bit bored with the rigamarole lately and decided I needed a little bit of a push to shake things up.
In April, my goal is to publish 50 posts total (across 2 sites) — which would be the most I've ever done by a solid margin.
I think my record is around 30 or so.
That means:
Bringing an editor back on board to help
Finding 1-2 new writers
Keyword research so I have enough topics
Creating a TON of content briefs
Writing a handful of posts myself
I have most of these pieces in place and the first assignments are going out already.
I'll also be publishing a couple of YouTube videos to keep the magic going over there.
It'll be a stretch. 50 probably doesn't sound like a lot to some people, but it's a big push for me.
At first I thought it would be a one month thing (and it still might be!) but to take this business to the next level, I might need to make 50+ posts per month the new normal.
Let's see how it goes!
Wrapping Up
March was a good month. It's really nice to hit that $10K number again and see all the major metrics up big time year over year.
It's been a weird year so 2020 isn't exactly an apples to apples comparison! But things are trending up and I'm happy.
I have 50 posts to publish this month, and a vacation to take next week! So I better get to work.
See ya next time.
Before you go, check out my blogging tools page for everything I use to run my sites or my how to start a blog guide for my basic strategy.