I've been running my own blogs and niche sites for a couple of years now.
I've been openly talking about the ups and downs of online business for about half that time.
Lately I've been getting a ton of questions like: how do you start a blog? How do you make money from a blog? How long should blog posts be and how do you do keyword research?
I'm putting together this resource not to be the best or most comprehensive blogging guide on the planet, but to lay out the way I approach creating a profitable blog. Things that have worked for me, my approach to solving problems, and the way I would suggest a total beginner get started.
If you're looking to start your first blog from scratch and eventually make money with it, here's most of what you'll need to know for the first 6 months or so.
Scroll down to read:
Should you start a blog?
Picking a niche or topic
Domains & hosting
Wordpress & themes
Your first 60-90 days blogging
How to help people find your blog
Keyword research & what to write about
Writing GOOD content
Blog monetization 101
Basic promotion & link-building
Planning for the future
Some of the links below are affiliate links, meaning I earn a commission for qualifying purchases. But I stand by any recommendations I make and only endorse products or services I've personally used.
---
Should you start a blog? (3 questions to ask first)
Before you do anything, it's important to figure out if blogging is actually a good fit for you.
You know those YouTube videos that are like "Make $7,000 per day in your pajamas!"?
Yeah, forget about that.
Earning money as a blogger is actually a lot of hard work.
Can it make you rich? Eventually. But it is a slow slog, a grind, and a lonely journey at times.
Before you decide if you really want to do this, ask yourself:
Am I prepared to work really hard on this for 6 months without seeing any results?
You heard me right – 6 months. It's highly unlikely you'll see significant traffic or revenue from your blog for at least that long, and I wouldn't get too excited to see any big checks for about a year or so.
And it's not 6 months of just chillin'. It's 6 months of hard work writing content and promoting your blog.
Do you have that kind of patience to keep going in month 4 when you're still not seeing results?
Do I have a skill or set of skills to bring to the table?
What drives me crazy about online marketing is that it tends to attract the worst kind of people.
People with no fresh ideas, no real tangible skills, and no money expect to get into the game and start killing it from day one.
Sorry to break it to you, but blogging is not a bulletproof get rich quick scheme. If you don't have at least a few relevant skills, you'll probably fail.
Maybe you're a great writer or researcher. Maybe you have excellent photo and video skills. Maybe you have a really unique voice or point of view. Maybe you're great at sales and conversions. Or maybe you have a lot of skills and knowledge in your topic area (say, archery) that you want to share with the world.
That's great! You can figure out the rest from there.
[Read: Blogging skills you'll need to make it as a pro blogger.]
Am I ready to run my own business?
I remember the realization I had one day that I wasn't just making a couple of bucks from my blog anymore.
It was an actual, legitimate business.
That's pretty damn cool, but a lot of scary things come along with that.
As your business grows, your expenses will grow and you'll need to manage the cash flow of the business well. All the major decisions come down to you... how to grow, scale, pivot, be productive, etc.
There's no one looking over your shoulder making sure you do the work, it's all on you!
You may need to bring in help, either full-time, part-time, or freelance. It's up to you to hire, train, and manage those people.
You ready for all of that? Not from day one, but eventually you'll need to become the CEO of your blogging business and not just a dude who writes content from home.
Alright... if you answered Yes to those, and you're really ready to do this, let's dive in.
---
Picking a niche or topic (The easy way)
What should your blog be about?
There are lots of complicated systems and processes you can use to vet a niche and rate its competitiveness vs profitability, etc.
That's not really what I do.
My approach is this:
Write what you know, or what you want to know.
That's pretty much it.
If there's a topic that interests you or excites you, or one you already know a lot about, go for it.
I'd probably advise staying away from HYPER competitive niches like:
Weight loss & fitness
Money & finances
Food & recipes
Blogging & online marketing
But if you know one of those topics and feel like you can add value, you can ALWAYS carve out an audience. It just might be harder than, say, blogging about ant farming.
(I have a blog in one of those topics that does quite well.)
I'd probably also stay away from things like:
News, unless it has a very specific angle or topic
General product reviews. I mean, really, be less original.
Topics with no discernable customer base like, say, "economics."
Once you think you know what you want to blog about, here are a couple of quick qualifying questions you can ask yourself before moving forward.
Can I make money in more than one way? Are there products people can buy or big brands that might be interested in partnerships or sponsorships? Affiliate programs available that I can join to promote products or services?
Can I find 50-100 topics to write about in this niche that aren't completely saturated and hyper competitive? You don't need to become the #1 authority in the niche that covers everything, but you do need to have enough space to carve out a business.
Can I bring something to the table with my voice, opinion, writing style, or knowledge? Or am I just adding to the noise?
As you grow and learn, you might find you get pickier and more advanced in how you evaluate niches.
I know the guys over at Authority Hacker won't even consider a niche if they don't feel they can earn 6 figures per month in the space.
But that's not you, not yet.
You can earn a couple hundred to a couple thousand dollars per month in almost any niche, even competitive ones.
(But I do urge you to stay away from the biggies I listed above unless you're really passionate about them.)
So, got your topic?
Ready to move on?
Great!
---
Staking out your land (Domain & hosting)
Before you can start writing and blogging, you need a website.
There are two basic things you need to set up a website:
What's the difference between a domain and hosting?
Simply, the domain is the name of your website (MyWebsite dot com) that routes people to a specific IP address.
That IP address will then allow users to access data and files stores on a server somewhere – your hosting provider. These files are what constitute your website.
Think of it like this... Your domain is like your street address, and your hosting plan is your actual house.
I usually recommend buying these separately, though you can bundle them together with most hosting providers to get a good price in the short term.
I won't go into too much detail here, but it's a little better in the long term to buy separately.
(Pro tips: Pick a blog name/domain name that's short... 1-3 words, no hyphens or strange characters. It should be easy to tell someone in person what the site is and have them remember it. Stick with dot com (no dot net or dot biz). Go with broad and brandable, not keywordy (PuppyHaven dot com vs BestDogBeds dot com)
Check to see if the domain or website name you want is available on GoDaddy and purchase it there.
Then buy a basic hosting package from Bluehost. It's cheap and perfect for your blog's first year or so.
---
Setting up Wordpress & choosing a theme
Once you register with Bluehost and pay for your plan, you'll need to "connect" your domain with your hosting plan.
From there, you'll want to install Wordpress.
There are other content management systems or website builders you can use, like Squarespace, but Wordpress is the gold standard.
It's the most flexible, customizable, and best for building a monetizable blog.
This isn't meant to be a technical guide, so I'll refer you to Bluehost's own page on how to set up your hosting account and install Wordpress on your new site.
What theme should I use?
The primary way of styling your Wordpress blog and changing its appearance is to use premade themes.
These are basically "skins" that sit on top of your website and content, and there are thousands to choose from.
In the beginning, pick a simple, clean, free theme.
Do NOT spend hours and hours customizing the look and feel of your site. Get it "good enough" and move on. You have a lot of work to do, and practically no one is going to see your site for at least a few months.
2017 is my favorite free starter Wordpress theme. It looks like this: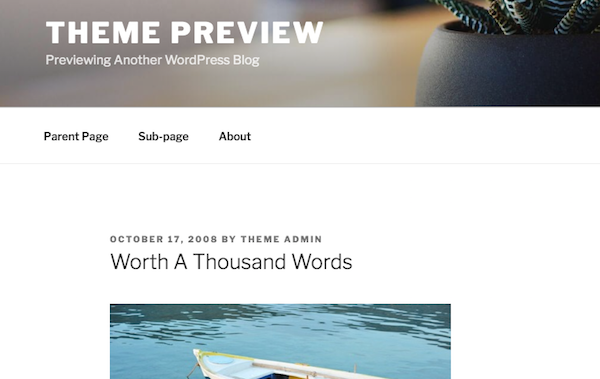 When you're ready for something prettier and more customizable, go with GeneratePress. I HIGHLY recommend it.
Read about installing a Wordpress theme here.
---
Your first 60-90 days blogging
So far, you have:
Established your mindset for successful blogging
Picked a topic
Bought a domain name and hosting
Set up a simple Wordpress blog
That's awesome, now you're ready for the real work!
For the next 2-3 months, your primary goal should be to add content to your blog.
Your secondary goal is promotion. If you want to, you can set up social media accounts for your new blog (Facebook, Instagram, and definitely Pinterest), and you can also try to network with other bloggers or do guest posts to build links.
(More on those below.)
But it's hard to promote a site with no content, so start there.
You need to create a base of blog posts and pages to build momentum and begin earning an audience.
Again, do NOT expect to see much traffic, if any, these first few months.
I can't stress this enough.
Here are the Analytics from a new blog I started in June 2018.
3 months in, I was seeing maybe 10-15 people per day on my site. And honestly, most of those were probably spam visits and bots, or just me visiting my own site.

Shift your mindset.
Your job these first couple of months is to build the blog and plant the seed of your business.
It won't fully bloom for many months to come, and only if you put in the work up front.
---
How will people find your blog? (SEO & Social Media 101)
I recommend focusing on two main discovery engines to get people to find your blog in the early days:
SEO (Google/organic search)
Pinterest*
*Assuming you've picked a somewhat Pinterest-friendly niche. If you're writing about waste removal, I'd skip Pinterest.
You can also use Facebook, YouTube, and Instagram to grow a following and drive traffic to your blog, but growing those platforms strategically is beyond the scope of this article, and quite involved and time consuming.
What I like about Google and Pinterest is that they're both search and discovery engines. People are looking for content there (not just to engage with their friends), and looking for SPECIFIC content there.
You can use this to help them find your blog.
How to get organic search traffic 101:
Perform keyword research to find out what questions, problems, information people are searching
Create excellent content that addresses that query
Be extremely patient. It takes Google months to rank new content highly.
How to get Pinterest traffic 101:
Create a Pinterest business profile for your website (instructions here)
Create and populate boards that reflect the main categories of your site
Pin new content you create to the relevant boards
Build up authority and an engaged audience over the course of many months of consistent activity
These two work quite well together in tandem, and they're the best bets for a new blog.
However, just remember that neither will be fast or overnight.
It will take at least a few weeks of publishing new content and promoting on Pinterest before you see your first visitors, and even longer still to see meaningful traffic.
---
Keyword research basics
Keyword research deserves its own novel.
Here I'll give a quick overview of my main approach to finding keywords, or topics to write about.
The best place to start is inside of Google itself.
You know how Google search is full of features like:
Autocomplete
Related searches
People also ask questions
Etc
Those are all clues as to what people are searching for on Google in your topic area.
When you're starting a new blog and looking for blog post ideas, you'll want to find keywords/topics you KNOW people are searching for, that are relatively LOW-COMPETITION.
A couple of ideas to get you started finding low competition searches:
Stem keyword + modifier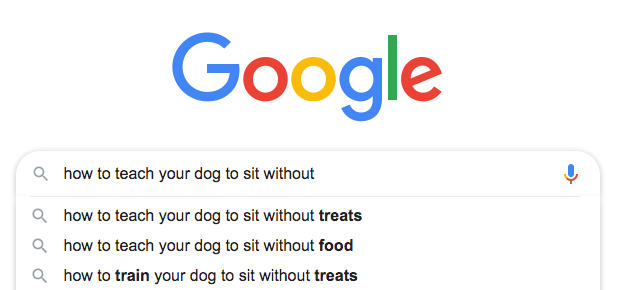 If you're starting a pet blog, you might want to write an article about how to teach your dog to sit.
Unfortunately, that's a REALLY competitive topic and you probably won't be able to show up in the first couple pages of Google for that search query.
But you could try specific modifiers like "how to teach your dog to sit WITHOUT treats" or "IN one day."
Those longer tail queries will likely be less competitive.
Versus or comparison terms
Comparing two specific things (whether they be products, concepts, vocabulary terms, or anything else in your nice) is often a great place to start for low competition queries.
Try using "vs" in Google autocomplete and you'll find a wealth of topic ideas.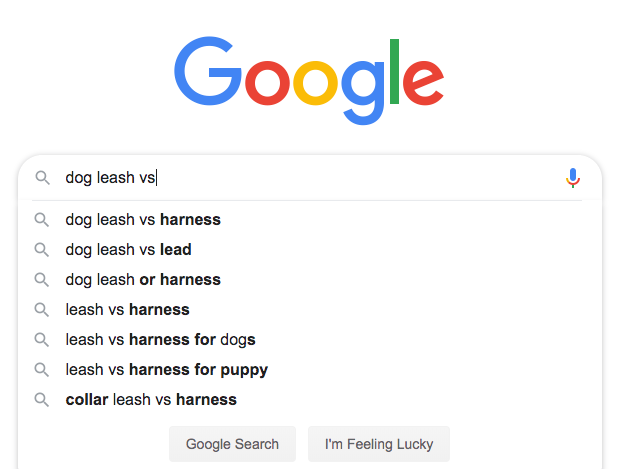 Best X for Y
This is a little bit like the modifier technique I described above, but this format will help you find commercial ideas that bring people with buying intent to your site.
You can write about products in these types of posts and add affiliate links to earn commissions – I'll discuss that below.
But as a new blog, you will be REALLY hard pressed to rank and get traffic writing something broad like "The 5 best dog crates."
But...
You can go to Google and use that FOR modifier to find some really interesting niched down ideas.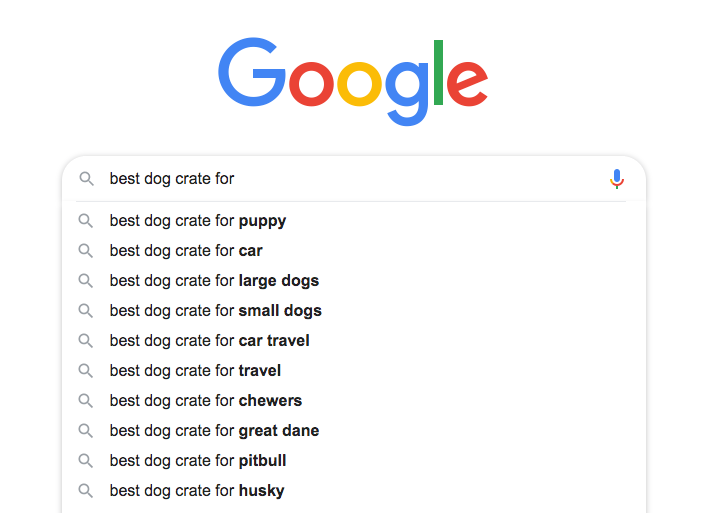 When you've found a topic idea you like, you'll want to analyze the actual search results for that term to see what the competition level is like.
A quick note on keyword volume
I use an inexpensive plugin called Keywords Everywhere that tells me about how many people are searching for each keyword per month.
It's really nice to have, but not totally necessary.
The volume numbers themselves give you a VERY rough idea of the traffic potential of a topic, and they can indicate competitiveness (lower volume is usually less competitive, but not always).
Here's a basic overview of search volumes, at least in my opinion:
<50/month - Very, very low.
50-250 - Low
250-1000 - Medium
1000+ - High
There's no search volume you should target or stay away from.
I'll write posts targeting keywords with 10 searches per month, or even zero.
[Read: When to target zero-volume keywords]
IF I think they're a good topic that I want on my blog.
The science of keyword volume as it relates to traffic is a whole separate discussion, but in the beginning, it won't matter much. You just want to find topics you can compete for.
How do you know if a a keyword is competitive or not?
There are tools for this that can help (like Keyword Difficulty in AHREFs, a popular SEO tool), but I like to do it by eye.
I analyze the first page results based on:
Do the results on the page match the intent of the query?
(Example: Did I search "dog leash vs harness" and the top result is "Top 5 best dog leashes under $20"?)
And who's competing well for this term?
Huge authorities (NY Times, Huffington Post, big publishers in your niche, official organizations, etc.) or other bloggers like you? Or low-quality sources like forum threads, Yahoo! Answers, etc.
I use some combination of these two things to decide if I should write the post.
I can't give you an exact formula, but once you've been at this for a while, you'll start to get a feel for what your individual site can rank for and what it can't.
Usually, if I feel like I can create a better post or resource than most of what's out there, I'll just go ahead and do it.
---
How to write good content for your blog
OK, so you've got a couple of ideas for what you can write about.
You know people are searching for them in Google (and other search engines), and you feel like there's room for you to eventually compete and shoulder your way onto the first page of the SERPs (Search Engine Results Page).
Now how do you write the content?
I often see this skipped over, but it's mega important.
Good content is:
Long (ish).
You won't get too far with Google writing 500 word posts. If my goal with a post is to bring people in to my site through organic search, 1000 words is often the bare minimum; though, of course, there are exceptions.
Posts should be as long as they need to be. If you're at 700 words and it feels like you're stretching to go any further, wrap up. If there's more to cover, keep going.
(If you plan to monetize your site with ads eventually, longer content is generally better. This is why recipe bloggers include stories, anecdotes, and FAQs in their recipes. It helps them rank better on Google and earn ad revenue in exchange for the time and money it took to develop the recipe. So stop complaining and just scroll!)
Well-formatted.
Short paragraphs, H2s, bold text, bullets, tables. Use these features to make your content well-organized and easy to read.
If you're writing for a literary journal, not so much, but when writing for the web it's a must.
Keyword optimized.
Don't confuse this with keyword STUFFED. If you're trying to rank for "the best dog crates for big dogs" you don't need to use it 400 times in your post. But I would make the title of your article CRYSTAL clear "The 5 best dog crates for big dogs" vs cutesy "Got a massive puppers? Try these adorable crates!"
And I like to use the specific keyword I'm targeting at least once, in its entirety, early in the post (usually in the introduction).
Properly cited.
Link out to good quality sources to back up any claims, data, or facts in your post. And link to a few other posts on your site, when relevant, in every single blog post.
---
Blog monetization basics
So you're doing great.
You know how to find good topics and write solid web-optimized content.
When do we get to start making money?
Unfortunately, probably not for a while.
But here's how you're going to make your first dollars with your blog:
Ads
If you have traffic coming to your site (you will eventually through Google and Pinterest, if you've followed all the steps so far), you can "turn on" ads and start making money.
It won't be much at first, but it's something.
You can implement Google AdSense on your site from day one and earn money from the very first pageviews you get.
Frankly, I wouldn't bother with AdSense. AdSense has notoriously low RPMs (Revenue Per Mille, or per thousand people coming to your site) and you'll barely have any traffic yet.
If you get 500 people to your site in a month this early, you're doing great, but AdSense will only earn you a dollar or two if you're lucky; in exchange for an objectively worse user experience.
When you get to 10,000 pageviews per month, or thereabouts, you can apply for Ezoic. They're an ad management company that will optimize your AdSense placements and earn you much, much better RPMs.
(You should be able to earn at least $100 per month with Ezoic ads if you meet the traffic threshold.)
At 25,000 sessions per month (that's sessions, not pageviews... it basically means 25,000 people and not views of individual pages), you can apply to MediaVine.
They're who I use and they're fantastic. They have some of the best ad tech and RPMs around, plus a dedicated team to help you with almost any issue you can think of.
At 100,000 pageviews per month or so, you can apply to the (quite exclusive) AdThrive. I've never used them because I'm so happy with MediaVine, but I've heard they have amazing payouts.
How to make money with ads: Write excellent content that entices people to visit your site on social media or performs well in Google search (by targeting a specific query and answering it thoroughly). In other words, get a lot of highly engaged traffic. When you have enough, you can implement ads and start earning.
Affiliate marketing
Being an affiliate basically means you do sales and advertising for other companies and products on a pure commission basis.
So you recommend certain products or services to your audience in your content. When they click and buy, you get a commission.
Simple, right?
It is simple, but it's not always easy.
The easiest way to get started is to join the Amazon Associates Program.
You can create affiliate links and promote almost anything you can buy on Amazon. The payouts are low, but Amazon is a conversion machine — I know we get about 4-5 Amazon deliveries a week at my house!
(I'd suggest waiting a few months to join the Amazon program. You need to make 3 qualifying sales through your affiliate links within 90 days to get approved, and you just won't have enough traffic when you first start.)
You can also work with specific brands that may run their affiliate program through a marketplace like CJ, ShareASale, Pepperjam, Impact, FlexOffers, and others.
How to make money with affiliate marketing: In a nutshell, you have to find a way to engage people with buying intent. That means they're not just looking for information, answers, or how to solve a problem, they're specifically looking to buy something.
Think about content you could create like "The 5 Best [Things] for [Specific Use]" – maybe The 5 Best Raincoats for Traveling.
Reviews of specific products you try – North Face Rain Jacket Review.
Or comparisons between two products people might be considering – North Face Jacket vs Patagonia Jacket.
It's possible, but VERY difficult, to get people to buy stuff when that wasn't their original intent. If someone comes to your blog to read a chicken noodle soup recipe, for example, it's extremely unlikely that your affiliate link for a soup pot is going to get any action.
Eventually, you can branch out into other blog monetization strategies like:
Sponsored content
Digital products (courses, ebooks)
Physical products (branded swag, whitelabeled products, new inventions, etc.)
Lead generation
---
Promotion & basic link-building
You'll find that getting your site linked to by other established websites really helps speed up and improve your rankings in Google, and can send visitors your way (called Referrals).
So how do you get links to your new site?
Whew, talk about a topic that deserves a novel.
This is the part most people avoid, because it's hard, and it sucks, and it's hard.
But if you can land a couple of good links early on, your site will DEFINITELY grow faster.
Here are a couple of ideas to try:
Guest-posting
Reach out to other blogs in your niche and offer to write a guest post.
This one is getting harder and harder every year. I get TONS of horrible pitches and queries in my inbox for my blogs.
But it can and does work, especially if you act like a real human in your email communication.
You can also try offering some other kind of value to the blogger in question in exchange for them letting you do a guest post. Maybe you could create some graphics or images for them, point out some broken links on their site.
Use your imagination.
Blog commenting
Commenting on other people's blogs is a good way to network and gain visibility (you can often link to your blog as a part of your comment).
These links don't "count" as much as in-content links (nofollow vs do follow... it's an SEO thing), but they can still send some early visitors your way and help search engines discover your site faster.
Promote a link-worthy asset
What kind of stuff do people link to?
You could create a custom infographic based on available data, or gather new data and analyze it somehow to create an original report.
Then, you'll be armed with an asset you can pitch to other bloggers and media to potentially link to.
Be a media source
I love responding to HARO queries – that's Help A Reporter Out.
It's a service where journalists and writers go to find sources for stories.
You can get these in your inbox every day and respond every time you see a relevant query.
I've been quoted (and received links from) some really huge sites doing this.
It's great for fitness, parenting, lifestyle, travel, finance, blogging and marketing, and topics like that.
You won't find many journos hunting for sources on woodworking in here, unfortunately.
---
Planning for the future (What to do when your blog is making money)
The things I've talked about above require hard work, consistency, and a lot of patience.
But I'd be lying if I said it was REALLY HARD to make a couple hundred or a thousand bucks a month from your blog.
That should be doable for almost everyone who puts in the time and does things the right way.
The challenge comes when it's time to get to the next level.
Making $5k per month or $10k per month from your blog will require new skills and strategies, and you'll hit a ton of setbacks along the way just when it looks like everything will be smooth sailing.
Some things to think about as your blog grows and you collect your first paychecks:
Adding new revenue streams
If you're doing great with ads and affiliate marketing, think if there's a place for sponsored content in your blog.
Or maybe it's time to develop your own digital product, like an ebook or a course, to sell to your audience.
You might want to start a second blog in another niche, as well, which is what I did.
Updating old content
It should be a standard practice to go back and update your old, high-performing posts at some point.
You don't want them getting stale and losing traffic.
If you notice a post slipping in the Google rankings or just getting less traffic, go back and refresh it. Add some new content, revise anything that's outdated, and use your newfound experience to make it better.
Diversify traffic sources
Google is great and terrible. Google giveth and Google taketh away.
Algorithm updates happen and can wipe you out overnight.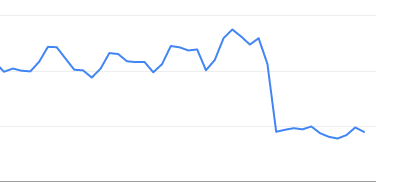 Eventually, you'll want to insulate yourself from these fluctuations as much as possible.
Consider a new medium, like video (YouTube) or a podcast.
Invest more in Pinterest or other social networks and build your following there.
Don't rely 100% on Google, because you may eventually pay the price.
---
Wrapping Up
I think that covers your first 3 to 6 months as a new blogger.
Not bad, right?
You've set up your site, learned how to find topic ideas, written some great content, and started promoting your site on social media and through basic link-building outreach.
I'm hoping you've also made your first couple of bucks from your blog.
This is the basic formula to becoming a successful blogger.
It just takes a long time for the wins to start piling up.
Again, you won't see results for at least 6 months unless you're extremely advanced at this. So don't get discouraged!
What did I miss?
I'll continue adding to this, or breaking certain sections out into new posts in order to elaborate, as I go.
What else would you like to see covered?
Oh, and don't miss my list of blogging tools I use to run my blogs. It might help you out as you start to gain momentum.
Good luck, bloggers!