For my money, it doesn't get any better than Dr. Seuss.
Our daughter is 3 months old and we love to read to her. But here's the problem. She's a little too young to really get much out of it. She's not able to stay focused on the pictures, and obviously she doesn't understand the words yet. So those dinky little kid books that are 5 pages long aren't super fun to read to her, yet.
So we've been reading stuff that's fun for US to read, which has featured a ton of Dr. Seuss.
Our current faves? Fox in Socks
, The Lorax
, and Horton Hears A Who!
.
So, of course, when we heard about the release of the newly-discovered What Pet Should I Get?
we put it on pre-order and waited anxiously for its arrival.
Now that it's here, here's my What Pet Should I Get?
review.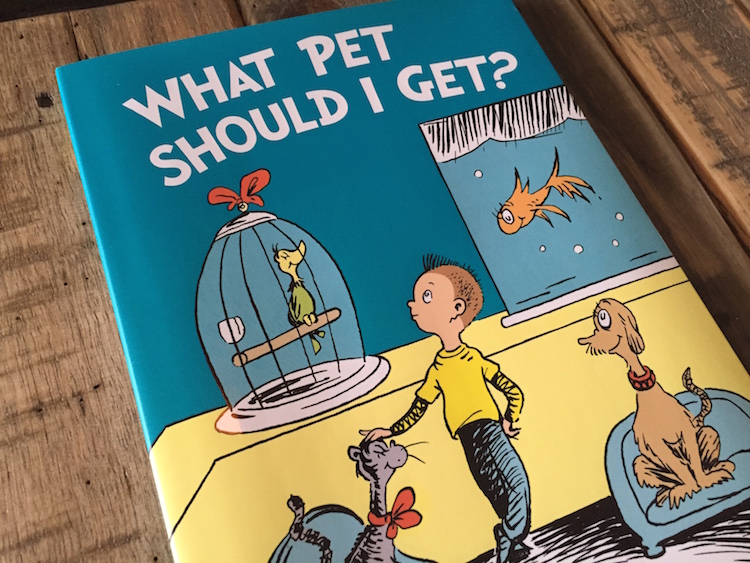 TL;DR: What Pet Should I Get? has some flaws, but is a must-own for Seuss lovers.
So, one thing you should understand here is the history of "What Pet Should I Get?" Apparently, Dr. Seuss's wife discovered the raw manuscript in his studio a few years back, and the editorial team over at Random House has been getting it in publishing shape over the past couple of years.
As the Notes from the Publisher in the back of the book explain, the line art for the book was discovered with several different iterations of text taped in place over top. They weren't 100% sure which text was the most recent, in some cases, but the editors did their best to piece things together.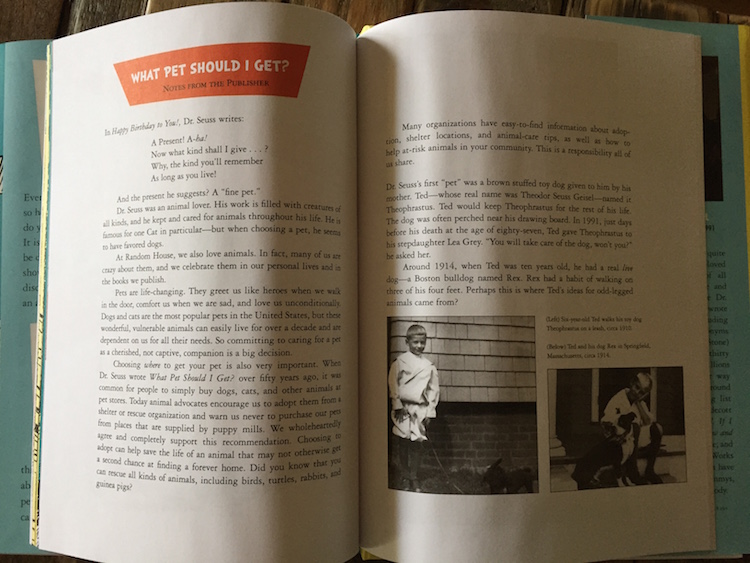 Maybe that's why What Pet Should I Get?
feels like it's missing something.
One of my favorite things about Dr. Seuss's work is that his rhymes are SO crisp, his rhythm impeccable, that his books are an absolute joy to read.
That's unfortunately where Dr. Seuss's newest book falls short. The rhymes are just a little bit clunkier than his best works. Take a look at this passage.
I took one fast look... /
I saw a fine dog who shook hands. /
So we shook. /
So I said, /
"I want him!"
And this one:
And I could have done it. / I could have, I bet. / I could have said / what pet we should get.
Nothing wrong with these by any means, but I don't know, they just aren't quite as clean as I'm used to with Seuss.
The other problem was that What Pet Should I Get?
definitely doesn't have that extra dose of Seuss craziness.
This one feels a little, tame? Two kids go to a pet store and can't decide what to get, until they finally manage to make up their minds. And while the lesson here is good for kids (on the importance of making tough decisions), the story could have been a little bit zanier.
Spoiler alert: The Publisher's note does hint that What Pet Should I Get?
may have been somewhat of an early draft of what would become the fantabulous One Fish Two Fish Red Fish Blue Fish
.
All that said, you still need to buy this book.
It's an integral part of the Seuss canon, a great artifact to his legacy, and it has some really interesting history notes and photos in the back that are worth the price alone.
It may not be perfect, but it's still a must-have for any Dr. Seuss fan.
You can pick up What Pet Should I Get? from Amazon.
---
Disclaimer: I may receive compensation from products or services mentioned on my site, but I stand by any research, opinions, or advice I offer here.