The debate is over in 2018.
If you're a writer, author, or journalist, you need a website.
Your own writer website is the perfect place to host your portfolio, promote your work, and even market yourself and attract new readers.
Better yet, it's NEVER been easier to create a website from scratch. The barrier to entry could not possibly be any lower.
That said, there are A LOT of options out there. We're talking more options than the average writer could possibly know what to do with, barring tons of research and agonizing decision making.
SO... I put together this guide to help writers build their own website.
Below, you'll learn about the best domain registrars for writers and how to choose a domain name, how to set up hosting and the best hosting providers for writers, and which website builder is best for writers, authors, and journalists.
Ready to dive in and get started? Let's go!
Skip to:
Securing your domain name
Finding the right hosting provider
Choosing a website builder
Alternatives to website builders
What to put on your writer website
Recap: 'Keep It Simple' Version
Recap: 'Tech-Savvy Control Freak' Version
Why do writers need a website?
As a writer myself, I've had tons of different websites over the years.
Eventually, I settled on this one for my personal online presence, WordsByEvanPorter.com, where I now host my portfolio, have my contact information, and essentially use it as an internet marketing sandbox to hone my content writing skills and better learn to promote myself.
Whether you're a web writer, a journalist, a novelist, a journalist, or just someone who loves to write for fun, you can benefit from having your own dedicated website, too.
Here's how:
Own your online presence
When people Google your name, you ideally want them to land on your real website, where you control the content.
If you don't have a website, they might end up:
Browsing Facebook for your profile or page (and finding the wrong one!)
Lost in a Wikipedia maze
Reading reviews of your work
Getting distracted and pursuing something else
Let's simplify the process. Build your own writer website and that way, when someone searches for you, you can give them exactly what they're looking for.
Promote & sell your work
If you're an author, your personal website is a great place to have links (or even direct download links) to your books or other published works.
If you're up for the challenge, you can even essentially run your own publishing business through your website by hosting and selling your work directly to readers.
That's part of the beauty of the Internet... self-publishing and bypassing the traditional publishing machine is more than possible with the right approach.
Market yourself
With your own writer or author website, and some smart marketing, you can reach not only people who are looking for you, but people who aren't (or at least, don't they are... yet).
Through content marketing, blogging, paid ad campaigns, social media advertising, and more, you can reach readers and potential customers directly, and drive them to your website.
Imagine running ads on Google around keywords like "best romance novel 2018" and driving those highly-qualified searchers directly to your website, where you can introduce them to, or potentially even sell them, you work.
Host your portfolio & resume
Here's a frightening and, surprisingly, not all that rare scenario for writers:
You've been working at a publication for a while when suddenly it goes under. The site shuts down, and with it, your entire archive of stories disappears.
You have the work experience, but no clips to show for it.
Any time you have the chance to back up your work, or at the very least, curate links to your work, on a platform that you own and can essentially never be taken away from you, the better.
The basics of how to create your own author, journalist, or writer website
Alright, so you're convinced, and you're ready to get started creating your very own writer website.
There are a couple of ways to go here, in general. Philosophically, you can choose a platform where everything is set up for you, all the infrastructure is in place, and all you do is drop in your own content (something like a pre-built portfolio site.)
Or you can start from the ground up, piecing together your own infrastructure and owning every bit of the backend of your website, having full control.
There are also plenty of options in the middle.
My recommendation is to have as much ownership as possible over every aspect of your website. It may be more work up front, but it pays off in the long run.
(In a little bit, I'll explain exactly what I mean by this.)
If you choose to go this route, here are the basic steps to setting up your own writer or author website:
Choose & buy a domain name
Set up hosting with a provider
Choose a website builder
Design your site or use a good theme
Create & publish the content of your site
Let's break down this process in a little more detail.
Step One: How to buy a domain name
Your domain name (or simply put, the web address users will type in to navigate to your site), is an extremely important decision.
Not only are you (for the most part) stuck with it for a very long time, it also becomes part of your branding.
For writers, authors, and journalists, you may want to pick a domain built around your name... YourName dot com is great if it's available. I chose to add a little flair to mine with WordsByEvanPorter dot com.
A couple of quick tips before you lock down a domain name:
Keep it short and easy to type
Avoid dashes and numbers if possible
Choose a .com address if at all possible -- it's more reputable
Your domain should be easy for people to spell and remember if you tell them your website name in person
There are tons of places where you can choose and buy your domain name, but my top recommended pick here is GoDaddy.
There are plenty of others you can use but for simplicity's sake, you can't really go wrong with GoDaddy. The prices are good and the customer support is solid. It's an extremely well known and reputable company overall.
A quick overview of how to buy your domain from GoDaddy:
From the home page, type your desired domain name in the search bar, like so: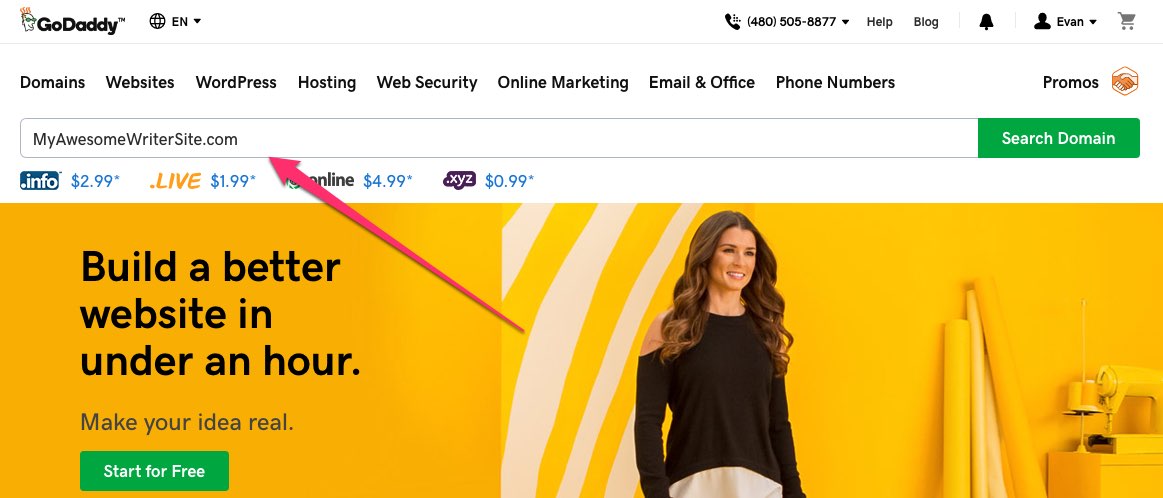 If it's available, congrats! You'll see a page like this with pricing.
Just click Add to Cart and proceed with the check out process.

It's really that simple!
(Important Note: You can skip this step entirely if you're OK with giving up a little bit of control. You have the option of buying your domain name as part of a package-deal when you sign up for certain website builders, like Squarespace, Wordpress dot com, or Weebly. I'll explain the pros and cons of this below.)
Quick Recap
When do you need to buy your own domain name? When self-hosting a blog using Wordpress software, hardcoding your own site, or using other third party website builders. OR if you just want to get a better deal by piecemealing your website package.
How much will it cost?: Cost varies, but expect around ~$10 per year
My top pick: GoDaddy - Find your domain now on GoDaddy
Step Two: Choosing a hosting provider
So you've got your domain name or website name picked out.
That's a great first step!
Now you need hosting, or an actual space to park your website.
Think of the domain name as the directions or map that lead you to a parcel of land. Now you have to buy the actual land so you can build on it.
A web hosting service is a place where you'll actually store the content of your website and make it accessible to viewers. They'll provide storage space, bandwidth, and other infrastructural things that you don't care about that are crucial to making your site actually work.
Similar to buying a domain, there are TONS of hosting providers to choose from. Amount of uptime, customer service, pricing, and storage space are all considerations when choosing.
To save you some time, my top overall pick for the best hosting provider for writers is SiteGround. It's not the cheapest on the block but the performance is fantastic, customer service is solid, and it pairs particularly well with Wordpress (which you'll soon see is my recommended website builder for writers and authors, as well).
To get started with hosting from SiteGround, go to their home page and choose "Web Hosting," then select your package to Get Started. For your purposes, the low-level StartUp package should be sufficient, but feel free to choose the plan that makes the most sense for your goals.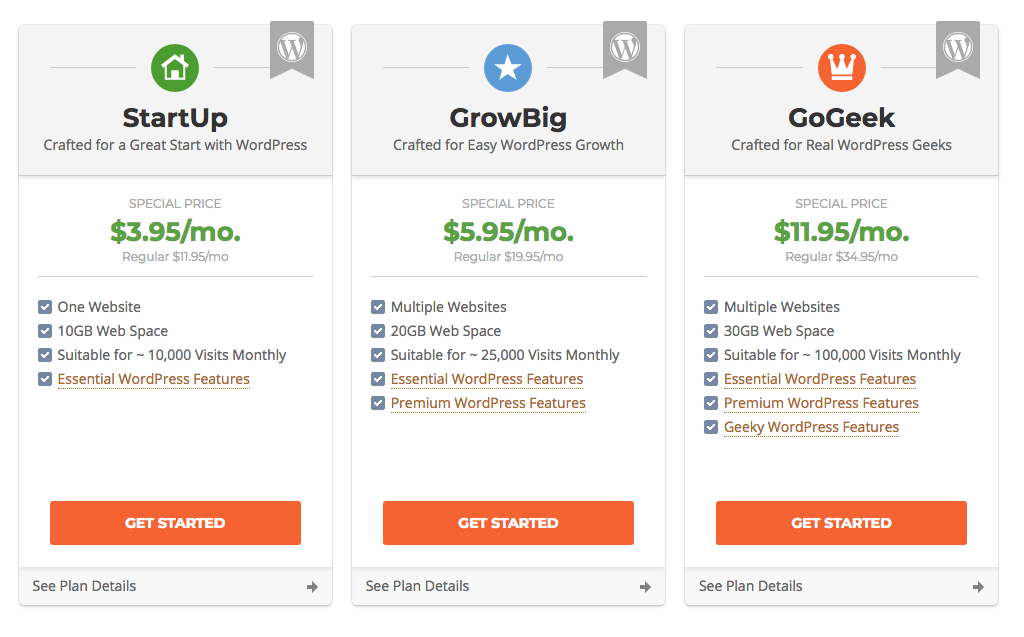 Then, you'll be asked to input the name of the domain you purchased in Step One (See, it's all coming together!)
To finish connecting your domain name and hosting service, you'll need to point your nameservers, provided by SiteGround after sign-up, to your domain.
Luckily, GoDaddy has a very helpful guide to exactly how to do this, which you can read right here. Don't worry, it's not hard and only takes a minute!
(Important Note: Again, you also have the option of having your hosting built-in (and skipping this step entirely) if you go with Squarespace, Wordpress dot com, or Weebly as your website builder... I'll discuss the pros and cons of this later in the article.)
Quick Recap
When do you need web hosting?: When self-hosting a blog using Wordpress software, hardcoding your own website, or using other third party website builders.
How much will it cost: $4-12/month when paid annually
My top pick: SiteGround - Get the latest price on SiteGround or get started now
Step Three: Choosing a website builder
Alright, now that we've got some of the boring administrative stuff out of the way, we can dive into the fun part of building a website -- actually designing and building it!
At this point, you've got your domain name and your hosting plan. You have essentially a "parked" domain that's just waiting for you to fill it with content.
If you're a designer and/or developer, go nuts! But if you're a writer without a lot of tech skills, you'll probably want to sign up with a platform that makes building your site and adding content super easy.
Here's where you truly have a lot of options. But I've boiled it down to my 3 top picks for simplicity's sake, though there are dozens and dozens more.
Wordpress
Wordpress is one of the most common and most popular CMS (content management systems) on the planet. It can do almost everything, it's pretty easy to set up and use, and it gives you a lot of flexibility.
One key distinction is understanding the difference between Wordpress dot com (content hosted on Wordpress) and Wordpress dot org (content hosted on your hosting provider, like SiteGround).
In most cases, I recommend following the steps as outlined above and installing Wordpress on your own hosting platform. It gives you the most customization and control if you ever want to do things like a) customize your design b) run ads on your site c) do advanced SEO d) tinker with back-end functionality.
However, if you'd like to start with the basics and have Wordpress handle EVERYTHING, from your domain to hosting to storage, and beyond, go ahead and sign up on Wordpress.com. There's a subscription package there that suits almost everyone.
(If you're still confused by the difference between self-hosted Wordpress vs hosting on Wordpress dot com, check out this great article on the topic.)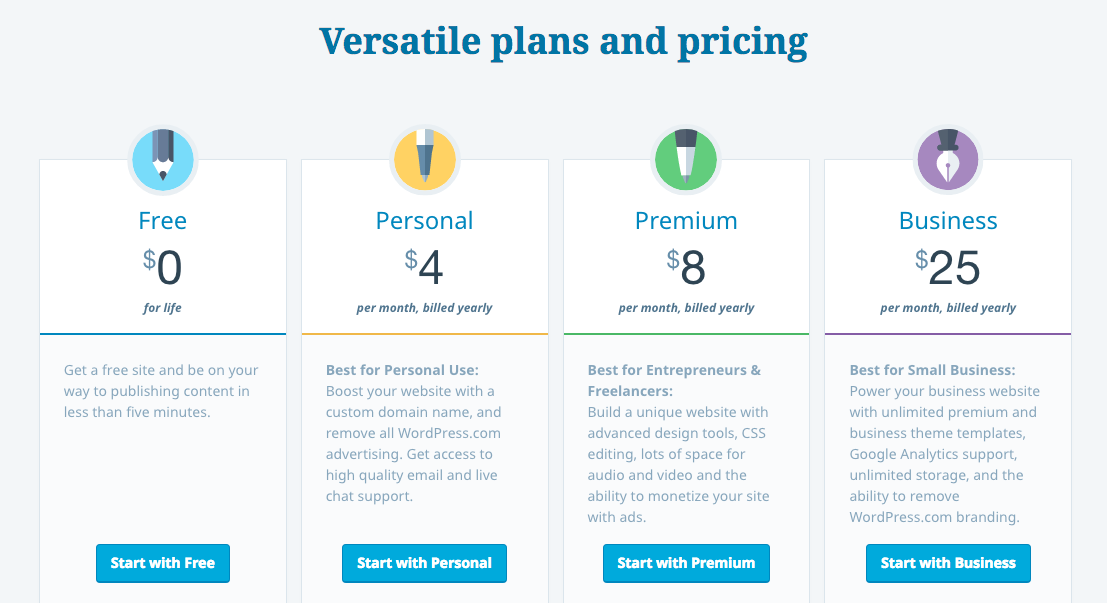 Pros: Content editor will be extremely familiar to most and easy to use. Incredible library of themes (website designs)... nearly infinite. Easy-to-add plugins that can do almost anything and link your site up with virtually any third-party service. Installing Wordpress on a hosting provider like SiteGround is super easy.
Cons: Can be a little finnicky to use for static websites and is best for blogging and dynamic content. If you're not planning on adding content frequently, may not be the best choice.
Cost: Including hosting & domain on Wordpress dot com, $4-25/month. (The free package has way too many limitations and I don't recommend it.) To install Wordpress on a domain & hosting platform you already own is free.
Squarespace
Squarespace is a website builder that's grown more popular in recent years because it's all-inclusive and specializes in beautiful, professional looking sites that are extraordinarily easy to build.
Their templates or themes really are stunning, and look like you paid a professional designer. The content editor itself is pretty standard but, in my opinion, a little limiting and clunky.
Important note: If you choose Squarespace, you'll purchase your domain and hosting as part of a package deal when you sign up. Like I wrote above, this is great for convenience, but is usually more expensive and forces you to give up some control of what you can and can't do on the platform. Just be aware.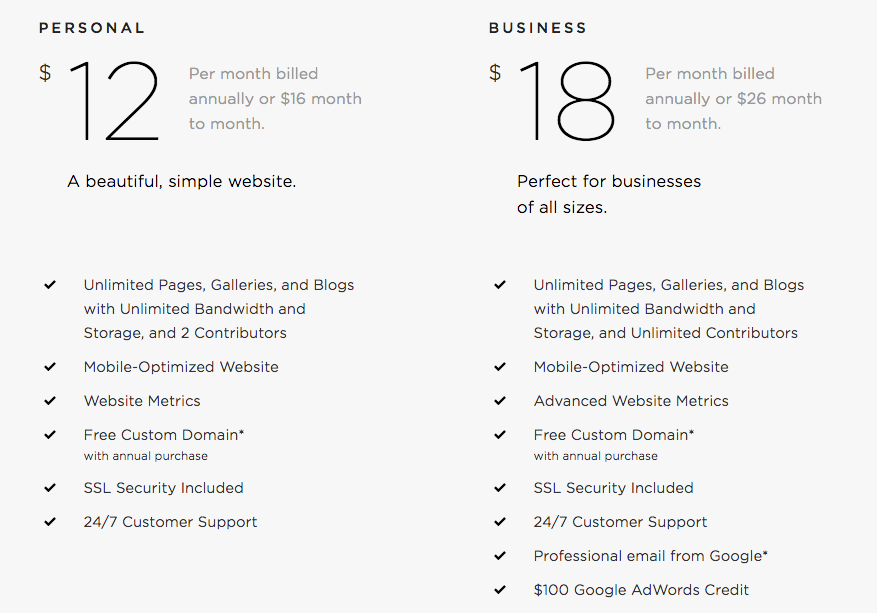 Pros: Stunning designs. Super smooth all-in-one experience. Great for static webpages or sites without a lot of content updates. Perfect for writers or authors who just want to host some headshots, an About page, and some other simple content.
Cons: A bit limited for blogging or frequent content updates. More expensive than many competitors. Not a lot of access to the nuts and bolts for customization.
Cost: $12-18 per month, including hosting and domain.
Weebly
Another all-inclusive website building solution, signing up with Weebly rolls buying a domain, securing hosting, and choosing your design elements all into one easy process.
And much like signing up on Wordpress.com or Squarespace, you give up a little bit of control for that convenience.
Weebly comes in a little bit below Squarespace on the "beautiful designs" scale, but is undoubtedly easier to use and less expensive overall.
Weebly is a great option for writers, authors, and journalists who want to build a simple website without a lot of hassle.

Pros: Super easy to sign up and use. Affordable pricing plans. Drag and drop content editor won't confuse anyone. Customer support is top notch if you ever run into trouble.
Cons: Not great for websites that plan to scale with lots of pages. Overall designs definitely not as good as Squarespace.
Cost: $8-25/month, includes domain and hosting
Step Three & a Half: Using Pre-built Portfolio Sites
This isn't my preferred way to do it, but if you don't care at all about having ownership of your platform, and you just want a place to host your clippings and portfolio, there are plenty of places to do that for free or cheap.
I think authors and writers should own their own platform and have the flexibility to do whatever they'd like with the content.
However, there are some advantages to using a pre-built portfolio platform specifically designed for writers. Namely, simplicity and convenience.
The 4 most popular writer portfolio sites:
If you're interested in going this route, here are some top options to try.
Contently: You can host your work for free on Contently, with the added bonus of possibly being discovered by clients who are looking to hire writers like you.
Journo Portfolio: This is a nice option that, at the higher pricing tier ($10/month), mimics a website builder like Weebly, just not as robust. There's also a free version. The nice thing about Journo Portfolio is the wide selection of themes to choose from.
Clippings.me: Another good option with some nice features, including the ability to use your own domain name and get Google Analytics stats (if you buy a Premium package.)
Pressfolios: Built for journalists in particular, Pressfolios is endorsed by Pointer, TechCrunch, and more as one of the top spots online to back up and share your work. Plans start at $9.99/month.
Step Four: Your website's all set up! Now what?
No idea what to put on your writer or author website? Here are a few ideas:
About page with photo, bio, career highlights, and 'get to know you' type facts
Blog to discuss the craft, business, and your personal career journey
Portfolio with clippings, links, and PDFs of your work
Sales page to sell books, eBooks, short stories, or whatever you write
Contact page with reliable ways to get a hold of you
Links to your official social media profiles
Media page with podcast appearances, video features, reviews, or press clippings
Hope that helps!
Recap: 'Keep It Simple' version
If you want an easy, convenient, but still high-quality experience building your writer website, here's what I recommend:
Go to Wordpress.com and select the Personal or Premium plan.
You'll pay $4-8 per month for everything you need, and Wordpress will walk you through the entire set up process from start to finish.
The result? A professional looking website on your own domain name that's super easy to update, edit, and manage as needed.
Recap: 'Tech-Savvy' version
If you want a little more control over your platform in the long run (ie, running ads, doing advanced SEO, customizing your design), do this:
Buy a domain name from GoDaddy
Get a hosting plan from SiteGround
Install the free Wordpress software through SiteGround (simple 1-click install)
Do whatever the hell you want with your site! You own every piece of it.
You'll pay around $6 per month for complete ownership and control of every aspect of this site.
And best of all, you'll be able to change, update, and customize any part of it whenever you'd like.
Questions? Still confused? Hit me up in the comments.
---
Disclaimer: I may receive referral fees from products or services mentioned on my site, but I stand by any research, opinions, or advice I offer here.