How to write a theme statement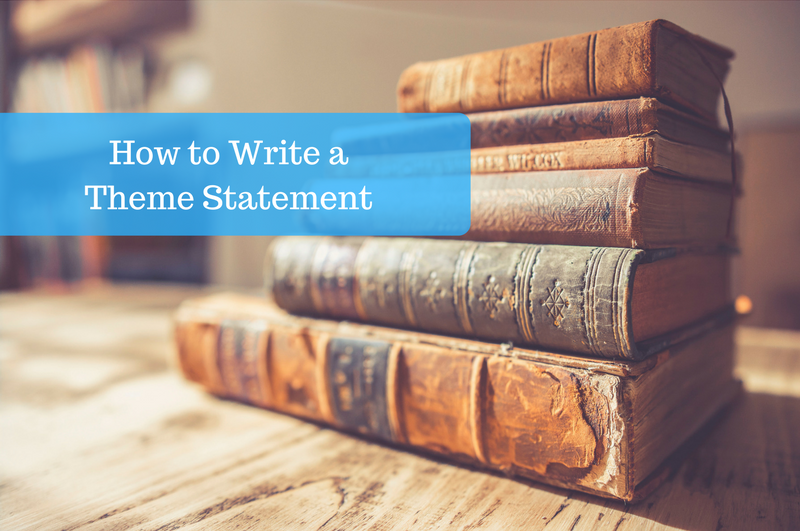 When you get done with a reading assignment for school, usually an essay, novel, or short story, you'll sometimes be asked to write a theme statement.
The definition of a theme statement can vary, but essentially it's asking you to state what the piece of writing was about — not the plot, but what sort of insight or perspective does it give on life/the world/human nature?
Theme is also sometimes known as the "main idea" of a story.
But how do you find the theme of a story? And how do you write a theme statement?
To write a theme statement, follow these 3 steps:
Pick the main topic addressed in the story
Pinpoint the author's view on the topic
Format that perspective using a theme statement template
Let's dive a little deeper:
Finding the theme of a story using topics
After you're finished reading the book, story, or essay (you did read it, right?!), think back on the main character or characters.
Did they undergo some kind of change throughout the journey? Did their outlook on life evolve in some way?
That's usually a pretty good place to start looking for the theme.
Another good place to start is by picking a general topic that the story tackles, and then figuring out on which "side" the author ultimately comes down.
For example, maybe the story deals with the broad topic of "love." Well "love" by itself isn't a theme, but a specific perspective on love could be.
Try this exercise once you've found your topic. Fill in the blank:
"This author believes _____ about (topic)."
In our example about love, maybe the story's about how love conquers all. Or maybe it's about how love is fleeting and fickle.
Your theme at this point might look something like this:
"The author believes that true love doesn't really exist."
(A little dark, but hey, it's just an example!)
Using a theme statement template
Every teacher or instructor is going to have their own way of wanting you to present your theme statement, so be sure to get clarity on that directly from them.
That said, there are some agreed upon "rules" of writing theme statements.
Don't include specific characters or plot points. This perspective on life should apply to people and situations outside the story.
Don't be obvious. "War is bad," is not a theme. Dig a little deeper using details from the story. (What specifically is bad about war? How does it negatively impact the characters or the world of the story?)
Don't make it advicey. "You should always be there for your family," isn't a theme, it's a suggestion. Keep your theme statement objective and based solely on evidence from the story ("The bond between family can overcome any obstacle.")
Don't use cliches. "Once a cheater, always a cheater," or "Actions speak louder than words," aren't themes. They're just expressions people use all the time and have very little power or real insight.
Here is a general template you can use based on what we learned above:
---
"The central theme of (piece of writing) is (author's position on topic)."
---
Alternatively, you could try: "In (piece of writing), (author) presents the idea that (position on topic)."
You may also be asked to use supporting details from the story to back up your theme statement. In that case, your full theme statement might look something like this:
"The central theme of (piece of writing) is (author's position on topic). When (event from the story) happens, it results in (blank), which demonstrates (some element of the theme)."
You're going to have to tweak and adjust this based on how much detail the assignment calls for and which examples from the text you choose to use, but it should be a good starting point!
Theme statement examples
OK, so what does it look like in action?
Here are some example theme statements from stories you're probably already familiar with (I'm doing these mostly to demonstrate how to use the template. I hope you'll put a lot of thought into your own theme statements and play around with different ideas before committing to one) :
In 'The Dark Knight Rises', Christopher Nolan presents the idea that true heroism requires complete and utter selflessness.
The central theme of 'Finding Nemo' is that fear is sometimes more dangerous than danger itself.
In 'Romeo and Juliet', Shakespeare presents the idea that love is more powerful than hate.
Hope this helps! And good luck!
Questions? Let me know in the comments.
---