I Monetized a YouTube Channel Without Being on Camera or Filming Anything (Case Study + Results)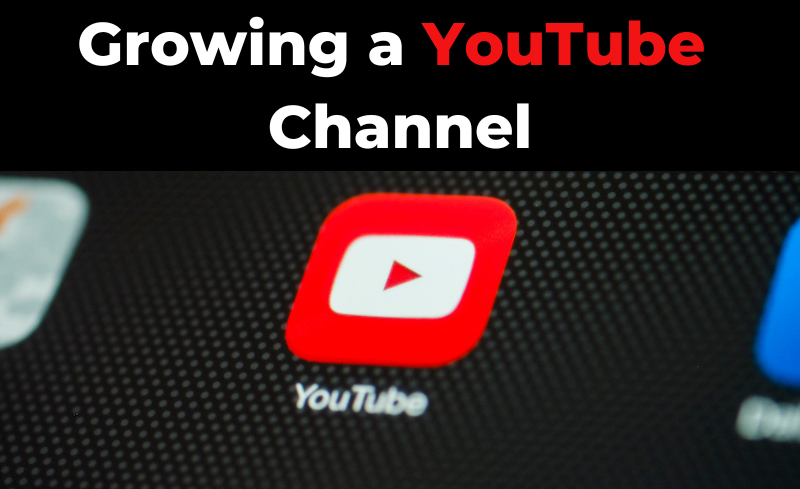 I've been running content sites since 2017 — that's when I started my first and largest site.
These days the site in question pulls anywhere from $6k to $11k per month depending on the time of year — you can read more about it in some of my old income reports.
The strategy with that, and my other sites, is simple:
Written content designed for organic search/Google traffic
Mostly ad revenue through Mediavine
But I've been secretly working on another project since 2018: Branching out into video via a YouTube channel for the site. I'm not really sure why. I don't know a single thing about video. But it seemed like a good idea at the time!
A few months ago, I was finally able to monetize the channel and start actually earning money on the videos. Wooh!
Here's the full case study, how I did it, how much money the YouTube channel makes, and all the other juicy details. Including whether it's even profitable!
First Videos - The PowerPoint Era
I posted the first video on the channel on April 23, 2018.
It was bad.
The idea was I would take one of my popular articles on the site, and then it's literally just me talking (voiceover) over a poorly made Powerpoint presentation with plain text covering the highlights of the article.
One commenter noted that it looked like a presentation you might give in a high school class, and honestly, they weren't wrong.
I did a couple more like this (8 in total) before I decided to try something different.
At this point, part of the idea was to embed the videos into the posts directly (YouTube, not Mediavine videos) — but that doesn't lead to nearly as many views as you would think.
The (Brief) Talking Head Era
So in a slight caveat to the title of this blog post...
I did a couple of videos (4 total) where I did show my face on camera, talking-head style.
Again I took one of my popular article topics and just talked through the key points sitting at a table on my back porch. The only editing I did was basically to trim out any word stumbles or awkward pauses.
Unfortunately I am not particularly charismatic on camera, and while I may have learned and improved, I just really didn't want to be the face of a YouTube channel, for many reasons.
Mostly, I just didn't want to look at my own face or hear my own voice that much.
Next!
Making Videos Using HARO Experts
So the next thing I tried was sourcing actual experts via HARO to film short videos for me in exchange for a link and promotion.
I got this idea from someone else who had reached out to me for one of my other sites, and asked me to film a short response to a question for a documentary they were making, and in exchange they would link to and promote my site.
So the process was: I put out a HARO query, found some experts who were willing to film selfie-style videos on a certain topic, and the idea was to compile them into one big video. Something like "5 Experts Explain XYZ"
At this point I needed a video editor.
I put up a posting on Reddit (r/forhire) and got a ton of applicants. I whittled down a shortlist and tried to figure out how much this was going to cost me. I really had no idea what video editing would cost. So I explained what I was looking for from the shortlisted candidates and I eventually found a guy I really clicked with who offered what I thought was a fair price (more on that later).
I ended up doing 4 videos using this method.
I didn't stick with it for longer because it's incredibly time-consuming (HARO query, filter responses, give instructions to experts, wait to receive video, then edit) — and takes a lot of work from me, since I was pre-trimming the expert videos for content before handing them over to my video editor to piece them all together and add titles, etc.
The videos were all over the place in terms of content, quality, format, etc. One expert wrote a jingle and sang it on the guitar. Loved the effort! But not exactly what I was looking for.
It was time to try something else.
(This is where I consider the YouTube case study journey starting in earnest, as I've published a new video every 2 weeks since this point — the first going up on June 20, 2020.)
The Modern Era - Stock Footage and Voiceovers
So from there I moved on to a much simpler and streamlined idea:
Taking popular articles from my site and basically turning them into voiceovers placed over top of relevant stock or promotional footage.
I got a subscription to Storyblocks because, frankly, it was one of the cheapest stock video libraries I could find. The really good ones have amazing footage but cost an arm and a leg.
The process was simple, too, which made this approach appealing.
I take an article from my site (1200-2000 words usually) and trim it into a short script (about 800 words).
The script goes to a voiceover artist I found on Fiverr, who delivers a VO file. I give this all to my editor and he pulls stock footage for the video, adds a few titles, and whala!
(In some cases, I'll use promotional footage or photos from a brand or company instead of stock.)
Video Cost & Total Investment
All things considered (editing, VO) these videos cost around $300 each to make.
To date, I've published about 51 of these videos (then there were the handful of HARO-style videos, as well).
That's a total investment of about $16,000 so far over the last 2 years.
YouTube Growth & Monetization Timeline
It took a really long time (and a LOT of money invested) to start monetizing.
You need, as of this writing, 4000 "watch hours" on your channel and at least 1,000 subscribers.
For me, the subscribers were the issue.
I got the watch hours and the total views easily and quickly (relatively... it started slow but really took off once I got the ball rolling), but because the channel is so transactional (like my content site itself, it leans heavy on organic search), it doesn't really inspire many people to subscribe.
But with enough volume, I knew I'd eventually get there. Eventually.
I finally reached 1,000 subscribers on the channel and was able to turn on ads on March 8, 2022.
That's just shy of 2 years after I started publishing videos before I was able to monetize.
Revenue from the YouTube Channel & ROI
So how much does a YouTube video or channel make?
Ads have only been live for 2 whole months. Here are the results and views:
April 2022 - $410.62 / 64,248 views
May 2022 - $427.05 / 65,224 views
So in the 1 partial month and 2 full months the channel has been monetized, I've earned a total of $1199.
(Plus a couple of days so far in June brings the total to $1,249.26.)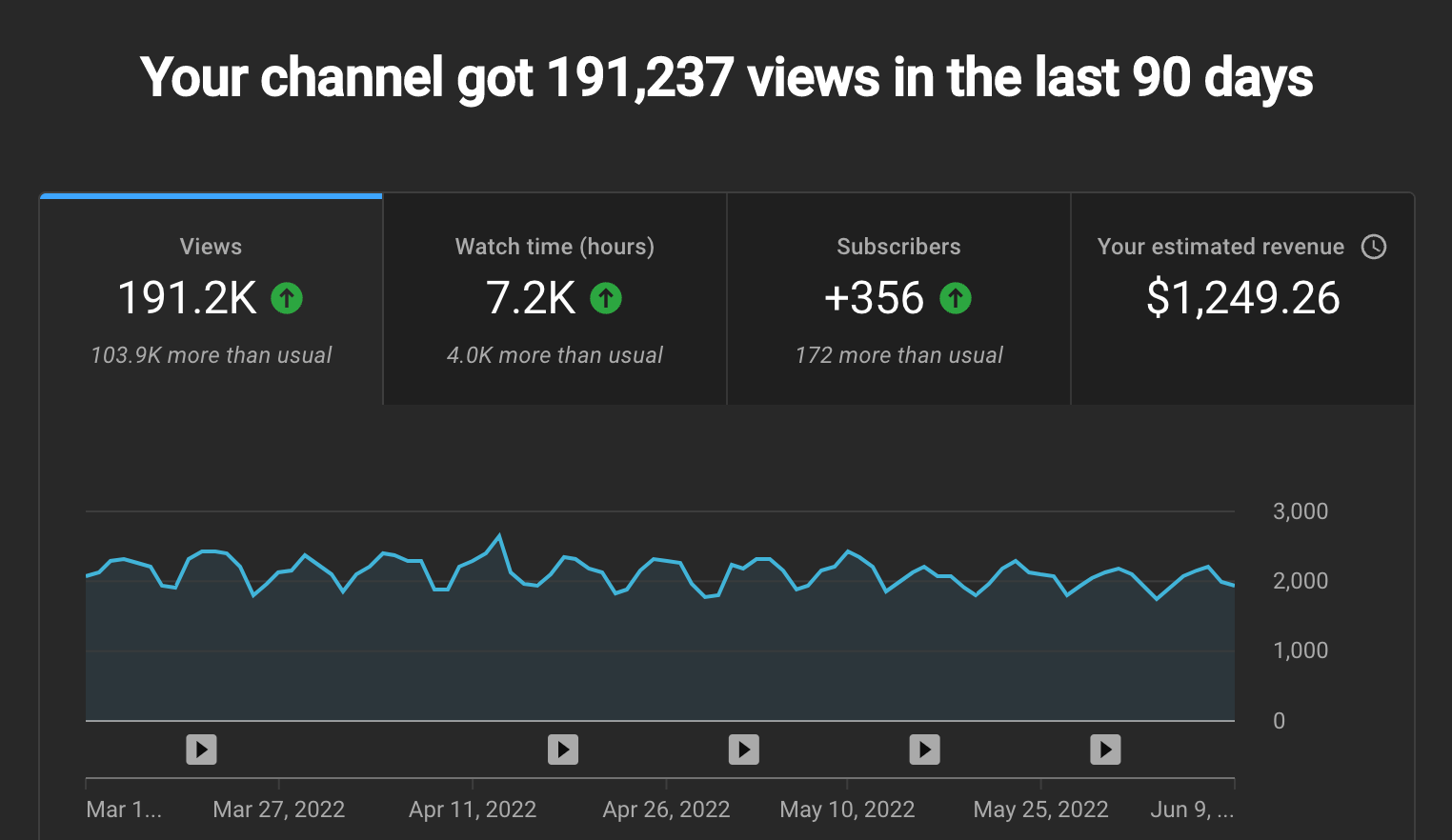 Currently, I'm still creating about 2 new videos per month at about $300 per video or $600/month.
So even though the channel is monetized and making half-decent money, it's still not profitable.
One thing that's really hard to quantify is that I'm also taking these videos (in some cases, shortened/trimmed versions of them) and placing them into my Mediavine video ad player on the website which does 200k+ visits/month.
I can tell you that video ads on this site made $645 in the last 30 days — but that doesn't tell the whole story, because you can also pull that same kind of money with just a couple basic slideshow videos.
You certainly don't need to be investing as much as I am.
If you include the Mediavine money, that makes these videos look far better from an ROI standpoint, but it's not strictly accurate to do so.
The Future
So knowing that the YouTube videos are struggling to turn a profit, what's the move here?
Here's where written content has such a huge advantage over video.
My Mediavine RPMs are always well over $20 per 1000 sessions, but YouTube has an RPM of closer to $6-7 per 1000 views, at least in my niche.
Written content is also far, far cheaper to produce.
But the other thing to consider is that Google properties, Youtube, and video in general are only carving out more space in the search engine results. Video definitely isn't getting smaller or going away. Maybe, hopefully, one day the ad revenue can compete with what we see on blogs.
I also think a strong YouTube channel sends great branding signals to Google for the blog, though, again, it's hard to attach a tangible outcome to that.
So for now I keep going. In time, hopefully the new video content can at least start to pay for itself ($600+ revenue/month), and over enough time I may creep into profitability on a month/month basis.
Ultimately, though, I think the right move may be to stop publishing new videos and let the "catalog" sit and earn for as long as possible before it starts to decline.
Maybe shifting to a maintenance strategy with just 1 or 2 new videos per quarter is the way to go.
I'm honestly not 100% sure and will likely go by feel depending on what happens over the next few months.
Fun Stats
Best video: 177,000 views
Worst video (that's been live for a while): 28 views
Most comments on a video: 224
Cease and desist orders: 1 — I used footage from a brand without asking, and they got mildly cranky about it, asking me to take the video down. I explained that my video portrayed them in an overwhelmingly positive light and asked them to reconsider. They agreed as long as I added some additional crediting.
Got any questions about starting a YouTube channel to go along with a niche / content / affiliate site?
Hit me up!