3 things from July 2023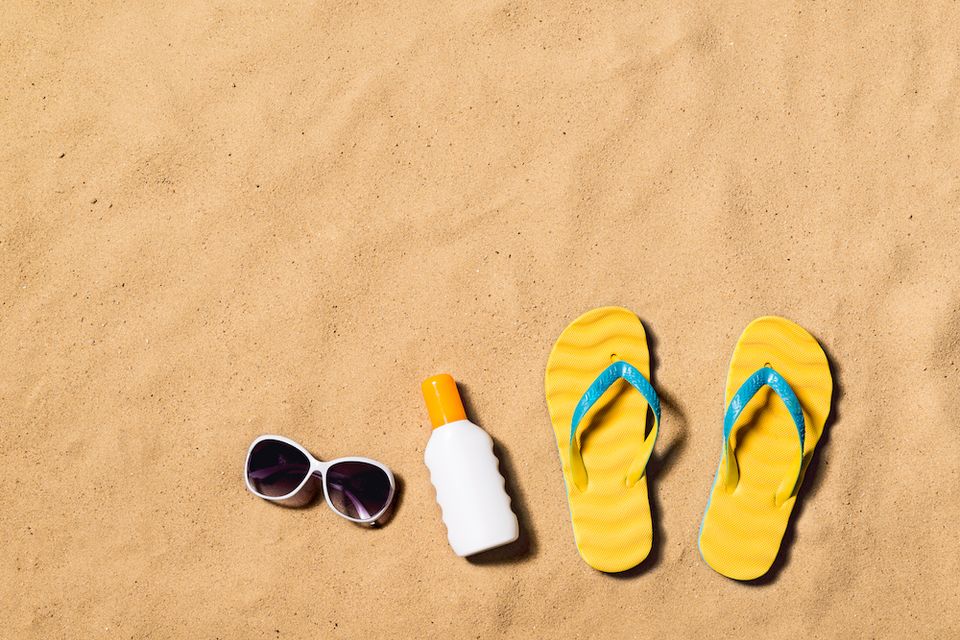 So a lot has been happening online.
Most of it sucks!
For years, Twitter was my favorite hangout. Now it's a haunted graveyard filled with people I don't know apologizing for since-deleted tweets. Very fun.
Threads is the new Twitter, I guess, but it got discovered by Brands and Content Creators too quickly. Every other Thread is just Slim Jim arguing with Wendy's.
Instagram is OK, but I've never been much of a visual sharer. There are only so many photos I can take of me sitting inside my house.
I don't feel at home in any of these places anymore. So if you have any interest in getting to know me or keeping up with what's going on with my book, DAD CAMP, this very blog might be the best place to do it.
Here's a couple things of note from the past few things.
One. Blink 182 and bittersweet nostalgia.
I went to the Blink 182 show in Atlanta the other night — with my great friend and talented author Kate Dramis, I should add — and it was an absolute blast.
I'm happy to report that the boys still rock.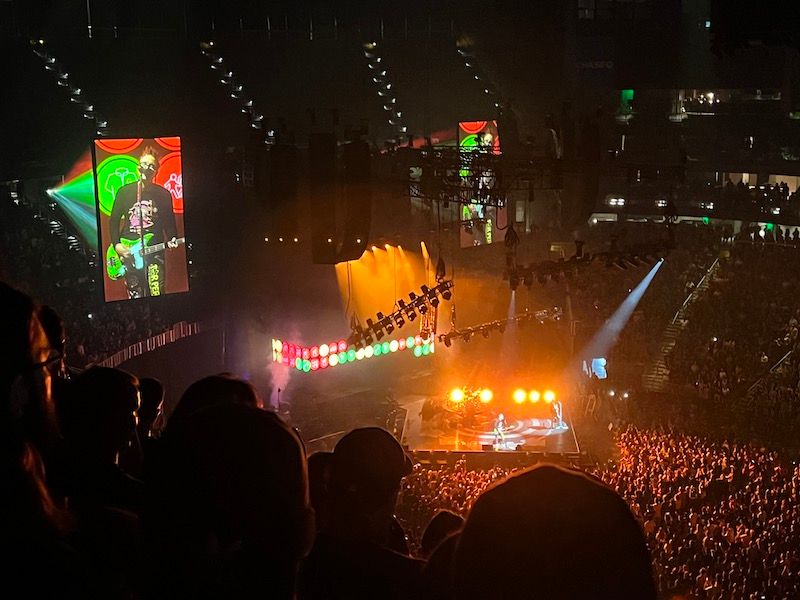 It's hard to overstate what that band means to me. I fell in love with their music during my most formative and tumultuous years — late middle school. Any time I felt lonely, misunderstood, or rejected, I turned to them. Which, at that age, I'm sorry to say, was a lot. Try constantly.
They were also my first models of what male friendship can look like, and it made my heart so happy to see them back together again, joking around about fucking each other's moms, slapping each other in the nuts, and making cheap dick jokes. The untrained eye might find it juvenile, especially for guys their age, but if you look closely you see that those dudes love each other to death. They say it and show it in a lot of different ways. Jokes about semen are just part of the deal.
In the days following the show, I had this nagging feeling that I couldn't place.
Some emotion or train of thought that was familiar, I had felt it before, but it eluded me for a while. There was something nostalgic about seeing Mark, Tom, and Travis in-person again after something like 20 years, like no time had passed. Then there was something a little sad about seeing them looking visibly older, in their late 40s and 50s now. But it was more than that.
After a few days, it finally hit me: Shaun White.
Watching Blink play, I felt almost exactly how I felt watching Shaun White make the final run of his career at the Winter Olympics in 2022.
If you saw it or remember it, you'll know that even for people who aren't particular big snowboard fans (like me), it was a monumentous moment. He was out there giving it his all, still great, but it was clear he had lost a little something. Once the greatest in the sport, his body just couldn't do certain things anymore.
But that wasn't all. There was something about watching the young kids, the ones who grew up idolizing him, out there just absolutely killing it right next to him. Doing impossible things. Crazy, lunatic kids pushing the boundaries of the sport.
The thing is that, in my head, SHAUN WHITE IS THE CRAZY KID.
When I picture him, I see the caveman hair and the baby face and though I don't really know anything about extreme sports, I intrinsically know that he's the best.
But not anymore. In 2022, he was the old man. The elder statesmen. The grizzled, respected veteran on his last legs, at the very end of his run.
(If you haven't seen his last halfpipe run, it's worth watching. You'll cry.)
It was bizarre to watch Blink 182 perform and see them the same way, minutes after watching a couple of younger, massively energetic punk acts ripping up the stage.
(The lead singer in the first act was flying around the stage like a gymnast, doing backflips and full 360 twirls. At one point he was singing while lying down on the stage.)
In my head, the Blink boys are the young up and comers, or at the least the twenty-somethings in the prime of their lives and careers.
It was surreal and highly bittersweet to witness the contrast firsthand and have my little nostalgic bubble burst.
I don't have some grand takeaway. It just rocked me a bit to realize that I relate more to them, nearing the end, then I do to the younger generation. The reality is that I'm somewhere in the middle, which is fine, if a little uncomfortable.
Maybe I sound like an old guy who doesn't want to get old. Maybe some of you will know the exact feeling I'm talking about.
In any case, I'm incredibly grateful for everything they've given us.
Two. Family fun with the kids.
Speaking of concerts, one of our big goals as a family this year was to have more fun.
The past few years have not been particularly fun, if you can believe it, so we set out to remedy that.
I'd say we're doing pretty well!
Here are a couple notable things we've done lately:
Taylor Swift concert - me, my wife, our 8 year old, and friends, on a party bus!
Ed Sheeran concert - me, my wife, and friends
Aforementioned Blink 182 concert
Visit Tybee Island - our own paradise
Georgia Renaissance Festival
Disney Cruise
Atlanta Braves game
And that doesn't include weekend visits to rock climbing gyms, arcades, trampoline parks, etc. And of course, many long, lazy Saturdays at the pool sipping High Noons.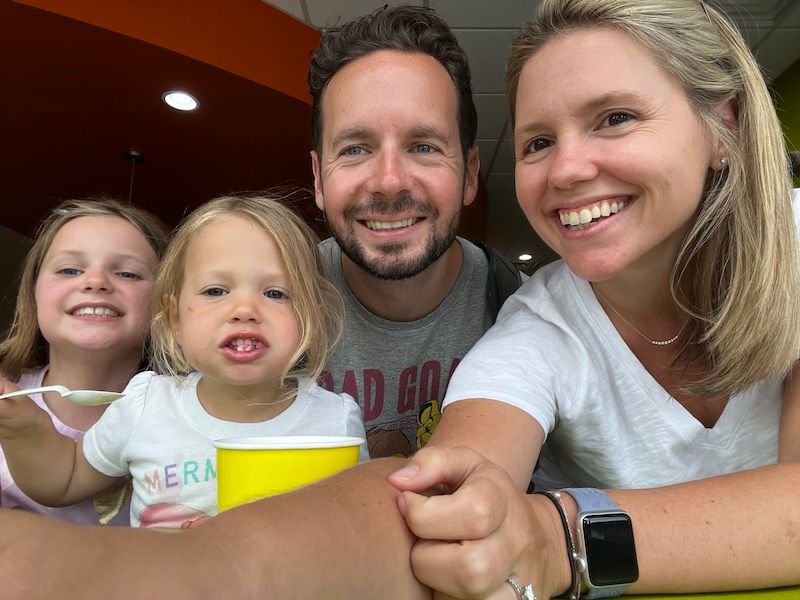 In the fall, we're headed back to Tybee Island and seeing Maisie Peters in concert. We're not usually such big concert people, but they've been a blast lately.
Having a routine is key to surviving with young kids. It keeps everything in order, everyone on track. It can also be soul-suckingly mundane, and too much routine can make your life seem like it's whizzing by in front of your eyes.
It's fun to list it all out and see how lucky we are that we've been able to do so much, make so many memories with our girls (8 and almost 3). The downside? We're absolutely exhausted — not to mention we haven't gotten a whole lot done around the house these past few months — that's a balance we'll be chasing forever and ever, I suspect.
Three. DAD CAMP update.
So what's going on with my debut novel, DAD CAMP?
Well...
It's still due out next year, 2024. Summer, to be exact!
Release date is still TBD, as are most things.
But there are a couple of exciting developments.
I turned in my line-level edits a few weeks ago, meaning the actual story is very close to being finalized. There may still be some small tweaks and there will be a lot of copyediting and proofreading before anything is completely locked in, but we're getting really close. The hardest part, I'm thrilled to say, is done!
There are also some whispers that the team at Dutton (my publisher) is working on the cover. I gave my input, some ideas and a list of things I like/dislike, but I'm really excited to see what the art team comes up with. I won't be able to share anything on that for a little while, but believe me, I CANNOT WAIT to see it and show the world.
Stay tuned, friends!