If you're still relying on the old "topic + 'write for us'" search query to find guest posting opportunities in 2019, you're doing it wrong.
Here's why:
All of your competitors can, and will, find those same opportunities
Blogs that openly offer up guest post spots get completely inundated with requests, so what happens?
The owners either a) ignore submissions completely or b) start charging money for guest posts and backlinks.
I don't know about you, but I'm not in the game of paying for placements like this.
Ask yourself this one question: What if you were really, truly an expert and authority on your topic? What would you do?
You'd probably get published in major media and industry publications to build your brand, and you might even get paid to do it.
Below I'll explain why this is an important and overlooked link-building strategy, and how you can do it yourself even if you're not a writer.
Here's a quick overview:
Compile a list of target publications (ideally that you know use author bios or author pages)
Find real editors or other staff to reach out to
Pitch an idea or send a general introduction
Work your network (or build one) when you get stuck
Follow up
---
3 reasons to pursue higher-difficulty backlinks
Getting links and guest posts from fellow bloggers who play in your stratosphere is a good thing, but I'd encourage all of you to think bigger and shoot higher for your next outreach campaign.
What I mean is: try to get published in the biggest publication in your niche, or better yet, a huge national media publication.
Here's why it's worth a shot:
Extremely hard to replicate
The process I'm going to show you isn't easy, which is exactly why you should try it.
99% of your competitors probably won't even attempt to publish an article on Huffington Post, Buzzfeed, or major industry publications.
I've done it personally myself, and though I'll outline all the steps for you below, just know that it will likely have a relatively low success rate. For that reason, it's not something I do over and over.
(The more persistent you are, the better you'll do. And the more success you have, the easier it will get. This is essentially what young freelance writers have to do to get started.)
But a few of these links will go a VERY long way...
Links have high-value
When it comes to domain shopping, people today will pay a fortune with expired domains when those domains have old links from authority and media sites.
If you can collect links and mentions from newspapers (NY Times, for example), it not only boosts your site's authority and ability to rank and get traffic, it adds a ton of value to your domain itself.
Plus, getting these kinds of mentions and links is a great way to build your E-A-T in tough niches; expertise, authority, and trust.
You might just get paid
You've heard of paying for backlinks, and you've heard of getting paid to sell backlinks, but have you ever heard of getting paid to get backlinks back to your own site?
If you can find the right writing opportunities, you can get paid for your writing work AND get a shoutout and link back to your site at the same time, which is pretty much the ideal scenario.
Depending on the outlet, you might get $25 for a short article up to several hundred or over a thousand for bigger features.
---
Now let's get into the exact step by step process I use.
Note: What I'm going to describe is not revolutionary or anything. It's basically what freelance writers today do to put food on the table.
It's a time consuming and manual process, which means there aren't a whole lot of bloggers and affiliate marketers doing it.
1 - Identify Target Publications
The first thing you need to do is put together a list of all the places you'd love to get published.
Think big! Think broad!
In this brainstorming phase, literally nothing is out of reach.
Want to get published in the New York Times? It might be a stretch, but put it on the list.
I like to start an Excel or Google Sheets spreadsheet that looks something like this; I prefer a sheet to a blank document because there are a few columns we're going to fill in (we'll get to those).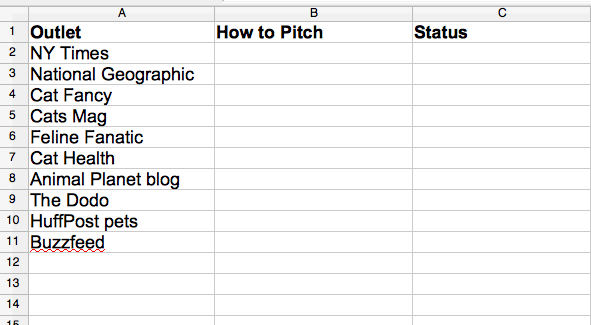 (I just pulled this sample list out of thin air. Some of them are imaginary. But you get the idea.)
Here are some ideas to get you started compiling this list:
What are the absolutely biggest blogs in your space? Avoid direct competitors and look for authority sites that publish a ton of content.
What are huge, national media outlets that cover your topic, or at least cover tangential topics? (Places like HuffPost, for example, cover almost everything)
Are there any large reputable brands in your space that have blogs? These are great targets as they have a lot of authority and clout but aren't as editorially rigorous as top newspapers, for example
Two important things to consider when building your initial list:
1) Try to target publications that are at least partially freelance written.
If the publication only has the same three bylines over and over, you can bet it's a lean team that does everything in house.
However, if you see a ton of different names, that's a good sign. Click through on a bunch of them and read their author bios, if they have one. You'll usually be able to figure out pretty easily if they're staff writers or freelancers.
Freelancers almost always have a bio like "Mary is a writer for Portland, Oregon who enjoys working out, playing with her pups, etc..." whereas staff writers will usually have a bio that mentions their connection to the company.
Speaking of author bios...
2) Look for sites that use an author box or give you a separate author page!
Some sites will include an author box at the bottom of each post, or a separate author page with a bio, or some combination of the two.
This allows you to give context about who you are, where readers can find you, and importantly, a backlink to the website you're promoting.
Here's the author box from a placement I recently grabbed.

Print-style publications that literally only type the author's name in plain text and offer no other context aren't much help.
(You can still go after these, however, so you can put a "Featured on So & So" badge on your site if you'd like.)
These kinds of publications also frequently pay really well and can be great stepping stones to getting published in other related publications.
But you won't be getting any links or referral traffic out of them, so just keep that in mind.
Here's an example:
---
2 - Find the names and email addresses of real people to pitch
For the love of God, stay away from Contact forms.
There's an industry term called the "slush pile," and it basically refers to the massive heap of unsolicited submissions, pitches, and other stuff that publications get.
No one wants to go through them because 99.9% of it is total junk.
You'll want to find a real person you can reach out to.
Ideally, this will be a low or mid-level editor who's pretty hands-on in the day to day process of pitch approval and story selection.
(Editors, section editors, associate editors, online editors, and deputy editors are great.)
I probably wouldn't pitch the editor in chief or editorial director! They'll be way too busy, most likely, and you won't hear back.
There are a billion different ways to go about this depending on the publication and how they have their website set up.
For bigger newsy publications, you can look for something called the masthead. This is a list of all of the editors and sometimes writers and other staff who work at the pub.
Otherwise, you may have to dig. The publication MIGHT have a page for writer submissions or instructions on how to write for them. If so, jot it down in your spreadsheet.
Do a simple Google search for "publication + editor" and see what comes up. LinkedIn results can be extremely illuminating when it comes to figuring out job roles at a company.
You can even search on LinkedIn for everyone who works at a given publication and then look through them to find editorial staff.
For example, I did a quick search on LinkedIn for the company and outlet AskMen. Then click on the People tab.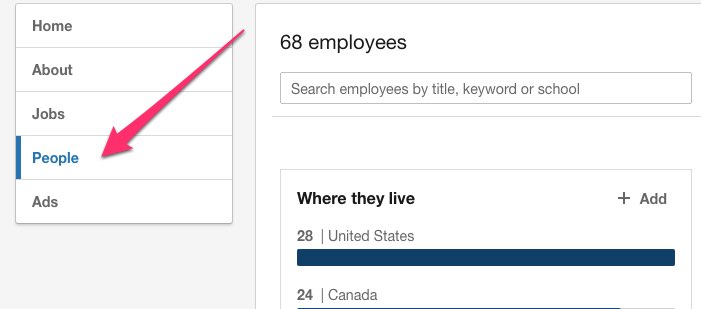 That'll give you a list of people who work there, if they use LinkedIn, and there's a good chance you can find some interesting contacts.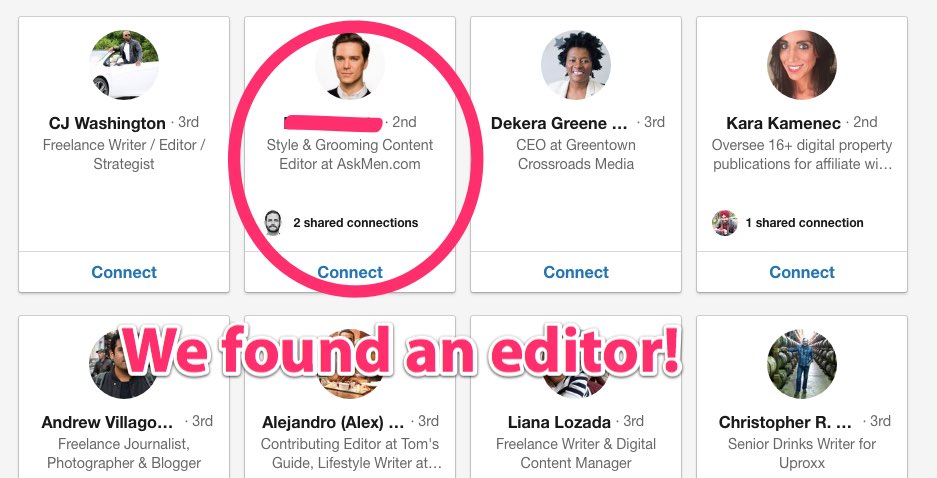 Once you've figured out that Jack Smith is an editor worth reaching out to, his email may or may not be listed on the site; but probably not.
You'll need to either find the email somewhere or figure out the outlet's email structure so you can guess it.
Do a Google search for "Jack Smith + Outlet + email" and see if it pops up somewhere.
If not, find the email address of someone, ANYONE, at the company and use it to reverse engineer the email structure.
It's usually going to be FirstInitialLastName (at) outlet (dot) com -- (JSmith (at) outlet (dot) com) -- or a variation of that.
Look under the outlet's About page, Contact page, or any of their sales and marketing materials. Press Releases very often have a PR person's email and contact information listed, which you can use to figure out the company's email structure.
If you still can't find anything, you can always just test out the different possible combinations.
JSmith@
JackSmith@
J.Smith@
Jack@
JackS@
Jack_S@
And so on
Send them one at a time (we'll talk below about WHAT to send) and give them a few minutes to see if they went through or if they bounce back.
There's a chance a few of the different combinations forward to the same address and you don't want to accidentally bombard poor Jack.
Collect all of the information you can find in your spreadsheet, like so (Again, these are fictional examples I made up).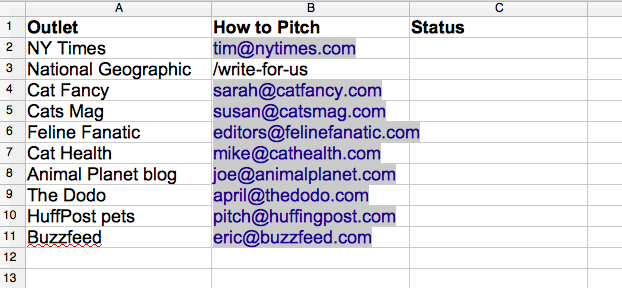 (For now, you might have to settle for some submit@ or editors@ type emails rather than individual people. You'd be surprised how difficult it can sometimes be to track folks down! Don't worry though, I have troubleshooting ideas for you later in this list.)
---
3 - Pitch or make an introduction (your call)
So now we know the outlets we want to write for and the editors we want to reach out to.
So what do you send?
To me, there are two ways to do this.
You can send a specific pitch or you can send a general introduction in order to open the door for assignments or pitches down the road.
Both approaches have pros and cons, which I'll explain below.
Crafting a Killer Pitch + Pros & Cons
The benefit of starting off with a pitch is that it immediately spurs the editor you're reaching out to into action.
If they love the pitch, they'll respond back and you're on your way. That's great!
They may also love the way you pitched, and although they pass on the specific piece, it opens the door for you to continue a relationship down the road.
Here's a pitch rejection I received once that ended up opening the door just enough for us to work together later.

The downside to opening right with a pitch is that, if they don't like it and aren't particularly enamored with the idea either, you may just not hear anything back.
It's also very time consuming coming up with pitches that are unique to each outlet, so there's that.
As for how to write a great pitch, this is a topic that deserves 5,000 words on it's own.
But for our purposes, the simple way to do it is:
Start by brainstorming a bank of topics & ideas you'd like to explore.
Read through the outlet you're pitching carefully and get a sense for what and how they write. Tailor one of your ideas to fit this publication specifically. (They may really like lists, "backed by science" stuff, case studies, or trending news stuff, for example.)
Be extremely concise. It should take no more than 2-3 sentences to describe your article idea.
Toss in another 1-2 sentences about why they should trust you to execute on that idea. This includes if you've been published elsewhere, have authority on the subject, or any success metrics from your blog in the same niche.
(If you're getting stuck on this part, definitely think about how you could repurpose content you've already created on your own site. Not recycle it, but use the information in a different format or expand on parts of it in a new way.)
The pleasant response I got above? Here's the initial pitch I sent (though this is a few years old and quite out of date to what I'd send now, at least regarding my bio):
Hey guys, my name is Evan Porter and I would love an opportunity to contribute to YOUR OUTLET. By day, I'm Lead Copywriter at a digital marketing agency in Atlanta. I have been published on Medium (The Cauldron, Human Parts, Writers on Writing), Thought Catalog, and have written for The Onion News Network. Links to a few of my writing samples can be found below.

For (Your Outlet), I'd love to write a piece about the seldom discussed art
of sentence rhythm: when to use short sentences, when to use long ones, and how to create an effective mix of varying sentence lengths that makes
your copy a pleasure to read.
That was seriously it.
It's also a great and extremely professional touch to tack on at the end how long it would take you to turn the piece around and about how long it would be.
If that first paragraph seems intimidating because I have a lot of writing experience, don't worry. You can super easily tweak this to suit your background. Just one sentence about why you love or have experience in the subject, and one sentence about your chops ("I run a popular blog on the topic.") is enough in most cases.
Plus, once you manage to land ONE MEASILY placement or article, it becomes that much easier to get a second.
"I've owned dogs all my life, run my own pets blog, and was just featured on Pet Fancy," etc etc.
Once you get two, you have a pretty legit sounding writer's bio and a snowball effect can happen.
---
Crafting a Killer Bio Introduction + Pros & Cons
The other route you can go is to just send the editor a general introduction and try to get a toe or foot in the door with them.
The plus side is that it's extremely friendly and non-pushy, which often generates a positive response. It doesn't feel spammy, like you're sending out the same pitch to three dozen different publications.
It also allows you to ask for assignments if the editor is ever looking for writers down the road. You never know when they're on the lookout for something specific. You don't always get this opportunity when you send over a fully-developed pitch.
I sent a general introduction to an editor recently and received this back. Now I know she has a general idea of who I am and will at least open my email and read my future pitches with an open mind!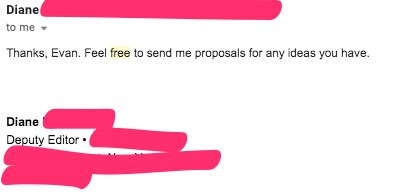 The downside here, though, is that a general introduction doesn't necessarily spur action. They may like you and your background, but not feel compelled to respond and you'll fall to the bottom of their inbox.
What does a good introduction email look like?
How I do it is basically this:
My name is Evan. I'm a former writer for Upworthy.com where I specialized in stories on YOUR TOPIC. My work has also appeared on AskMen, Huffington Post, Lifehack, and more.

I also run my own YOUR TOPIC blog with over xxx monthly readers.

I wanted to reach out because I'm a big fan of the stories I've read in YOUR OUTLET and I'd love to contribute if you're ever looking for writers or material. I'm happy to pitch or take on assignments if/when the need arises!

Let me know if you think there might be an opportunity for us to work together. And thanks for the time!
Now you could juice this up some and get the best of both worlds by including 3 really, really brief article ideas. Not full blow pitches, but just enough to show that you have ideas and have thought this through.
(I got that idea from Catherine Alford here, who has tons of amazing content on making it as a freelance writer... which is basically what this is.)
(You'll want to track who you've reached out to and who you have followed up with in your spreadsheet.)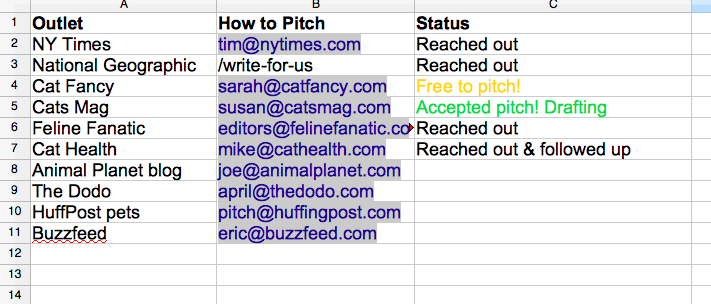 ---
4 - Work (and build) your network
A big part of your success here is going to boil down to two things:
Volume and consistency.
Guest posting success rates are typically pretty low, and they only get lower the more ambitious you get in who you're targeting.
Expect this to take time, effort, and persistence.
I like to GENTLY follow up with an editor after I've reached out about 1-2 weeks later if I haven't heard back.
If you still don't hear anything after another 1-2 weeks, try contacting someone else at the publication.
But if you're stuck, not getting responses, or just looking for a better way, you've got to work and build your network.
I happen to know a lot of writers. They have been published all over the place on all different kinds of outlets.
So I typically keep up with where my friends are getting work published. If they appear on an outlet that's of interest to me, it's pretty simple to ask for:
Who I should reach out to
If I can name drop them ("Tommy told me to email you!")
Or better yet, a quick email intro to the editor
You might not think you have any friends who are writers who can help you, and that might be true (you should definitely consider if you know other bloggers, other than direct competitors, who do guest posts that might be willing to point you in the right direction), but there are ways around this.
Remember in Step One when you found a bunch of publications that publish work from freelancers?
Reach out to some of those freelancers, compliment their work (genuinely!), and see if they can give you any pointers on how to get published in that outlet.
I'm serious here.
Just now, in about 30 seconds of work, I went to this brand blog I've been trying to contact and get published on, found a freelancer who had recently written for them, and found his or her website.
Look at all of these places this person has been published! Might you want to get some similar exposure?
Drop these folks an email and tell them how much you liked their piece, then politely ask if they have any pointers or advice on how they got the gig.
Don't be an entitled prick, they don't owe you anything and aren't required to help you. But I bet if you're nice and friendly, a lot of them will.
(I have been on the other side of this coin in the past and have helped folks who ask nicely. Why not?)
---
5 - Do the work and get published
If an editor likes your pitch or offers you an assignment, congratulations!
You're in!
For a lot of you this will be the scary part:
You're going to have to do the writing yourself.
You can't buy an article for $20 on Upwork and send it to The Huffington Post! Most big outlets will expect a certain level of quality, or if not quality, then at least expertise.
But I don't want that to scare you. Have the confidence to try it.
Do thorough research, get eyes from friends, loved ones, and colleagues on a draft, do whatever you have to do to make your piece as good as possible.
(Hell, take the money the outlet is going to pay you, if any, and spend it to get a professional editor to help shape your piece.)
The publication's editor will help you get it into final shape.
From here, be very specific about the bio you send over to be included with your article. And check it once the piece goes live to make sure your URL / backlink displays properly and is a real, clickable link!
---
6 - Follow up
I already talked about following up with editors when you don't hear back.
It's an art form. You need to be persistent without getting your email address blocked!
But I also want to talk about following up AFTER you've successfully written and published a piece with a new publication.
I got this advice from my old editorial director at Upworthy. She told us whenever you interview someone for a story, ALWAYS ask if they know of anyone interesting you should talk to for that story (or any other).
This technique leads to all kinds of amazing opportunities you never would have otherwise found.
And I've been using it in my guest posting, too.
After I wrote an article for a fairly big blog in my niche, I sent them this exact note:

They wrote back and said they'd be happy to pass my info along, and within a week I was in discussions with another outlet about doing some work for them.
So to recap:
Follow up when you don't hear back
Follow up again to continue working with that editor, if you're up for it
Follow up and ask politely if they know of any other opportunities you'd be good for!
Once you get a foot in that door, you ideally don't want to let it close.
Be polite and professional in all of your interactions, but always remember that you never get what you want if you never ask for it.
---
Wrapping Up
If I can end with a broad takeaway, it's this:
We sometimes forget that there are people other than bloggers and affiliate marketers that make their living writing for the web.
Those people are freelance writers.
And it's their entire livelihood to pitch, get published, and get PAID by big publications most bloggers would never dream of getting a "guest post" from.
(What's funny is they usually don't particularly care about that incredibly valuable backlink.)
The thing is... you can do this too! You just have to learn the process, learn how to position yourself and your expertise, and have a ton of peristence.
Yes, you'll need some basic writing chops to make this work. And you'll have to put your REAL name and often photo on your work.
But otherwise, it's really not as intimidating or as exclusive as it sounds. You just have to follow the process and keep at it when everyone else has given up.
I hope you found this helpful, and let me know in the comments if you have questions!
P.S. - This is one of my favorite strategies for growing a blog, but if you're interested in some of the day to day tools I've used to build a profitable blogging business, start here.