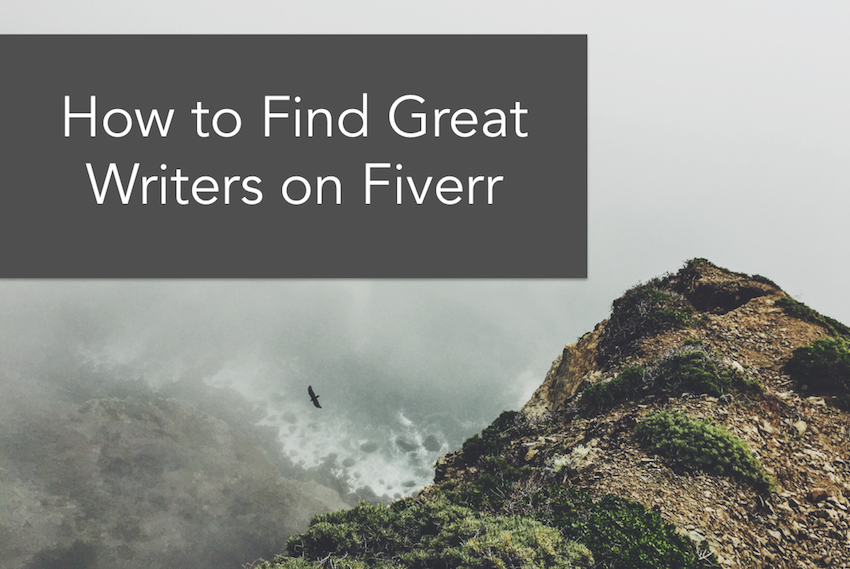 Fiverr
is an online marketplace for copywriting, graphic design, marketing, and pretty much anything else you can think of. Unlike most online marketplaces, though, each service on Fiverr costs exactly (you guessed it)... five dollars.
So it's easy. It's catchy. And it's primarily utilized as a way to get access to quick, cheap work.
But there may be more to Fiverr copywriters than meets the eye.
I recently read a piece from Danny Margulies about the "hidden economy of eLance" and how he uses a platform best known for bottom-dollar pricing to find great copywriting projects from great clients.
Many writers do the same thing on Fiverr. You just have to know how to find them.
So here's a quick guide for business owners and other clients who want to use Fiverr as a recruiting pool for writers for larger, long-term, and more meaningful projects.
---
1) Raise Your Budget
---
Most people go to Fiverr
for $5 gigs. Starting now, you are not one of those people.
I hate to tell you this, but you will never get real, high quality copywriting work for $5. Not from someone who knows what they're doing.
Of course, everything on Fiverr costs $5. So what do you do?
They key is to look for the writers that value themselves a little higher.
For example, here's a writer offering 500 word articles for $5 a pop. Simply put, you can not get high quality writing for this price. And while the writers behind gigs like this one may very well be capable of brilliant work, someone who specializes in this kind of assignment is probably not who you want to work with long-term.

On the other hand, here's someone willing to do only 250 words for $5. That's still an insanely low rate, but at least you get the sense that this writer values her abilities slightly more than the other guy.

It's a starting point. You'll need to continue to vet her profile to confirm whether she's the right fit for your project.
---
2) Read Bio & Gig Descriptions Carefully
---
This should be a no-brainer, but you'd be stunned at how many user profiles and copywriting gig descriptions on Fiverr are poorly written.
Really take the time to dive in to the copy here. Is it well crafted? Or is it awkward or poorly written? If something feels off about a writer's gig description, there's a good chance they aren't going to be able to execute on a high-priority writing project.
For example, here's a description from a seller with a 4.5 star rating.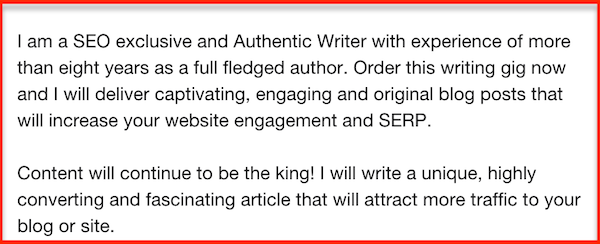 Not super inspiring, right? I'm not sure there's anything "wrong" with this, but it doesn't get me excited.
It gets worse: this seller below has a perfect 5 star rating!

Below is much better. It took some digging to find this, as it will for you, but I'd be much more comfortable hiring this writer than the ones above:

Clearly, ratings aren't always a quality indicator. Only you know the level of execution you're looking for on your project. At the very least, read a writer's profile and gig descriptions to see if there's a basic level of competency.
Hat tip to david388 for this tip.
---
3) Read Reviews & Responses
---
Somewhat of a no-brainer again, but Reviews are buried at the bottom of a Fiverr user's profile, so they can be easy to miss.
Too bad, because they can be a great clue as to the kind of writer you're dealing with.
Read client reviews of a writer before hiring them, of course, but also take a look at how the writer responds. Look for someone that comes across as human, professional, and friendly.
Here's a nice interaction that inspires some confidence.

And this one: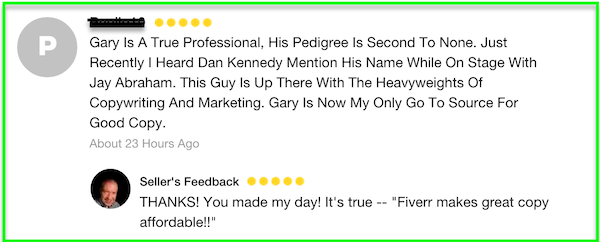 This one, not so much:

A lot of writers will ignore Reviews or even offer a robotic stock response to every comment. There's nothing wrong with this, but is that the kind of writer you want to form a larger relationship with?
Again, these are free and easily available clues. Alone, Reviews and responses may not tell you that much. But by now we're starting to gain a much clearer picture of who these sellers are.
Hat tip to emasonwrites for this tip.
---
4) Browse the Forums
---
Fiverr is home to a pretty lively and engaged community of Buyers and Sellers alike. A trip to the Fiverr forum can teach you a lot about how to get the most out of the platform.
It can also help you scout out top talent for potential projects.
Here's how:
Search the forum for a topic of interest to you. It could be something like "writing" or "copywriting" if those are the services you're interested in. Or you could try searching for your niche or industry to see what discussions come up.

Then, start reading. Take note of who is contributing to the discussion, offering value, and demonstrating expertise, and who's just there to promote their gigs.
Take this post. At its core, it's a pretty bad attempt at SEO. It drones on and on, promotes only the writer's services, and is completely structured around keywords.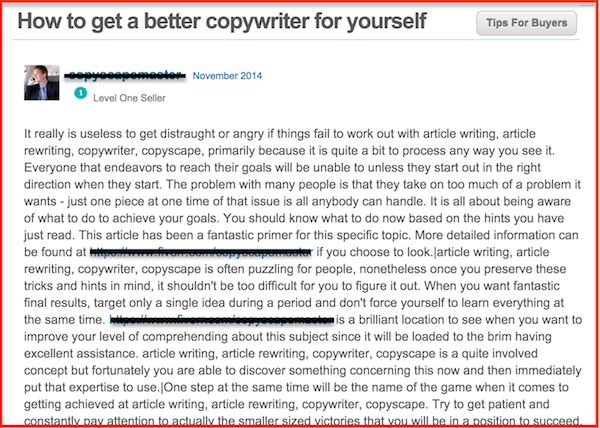 The below is much better. This user has at least made an attempt to add value and demonstrate expertise here. She's contributing to the community. It may be worth clicking through to her profile and exploring her offerings further.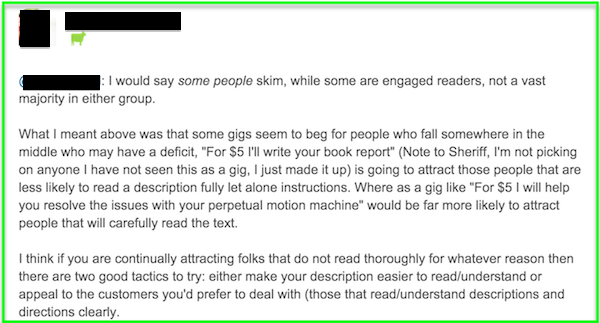 Hat tip to Sara1984 for this tip.
---
5) Order a Test Gig
---
The best thing about Fiverr is that it's so cheap, it doesn't cost much to order a test gig from a number of different writers to try out their services.
Go into purchasing gigs with a long-term mindset. You may not ever end up using the work (as we've discussed... $5 won't buy you much), but you'll at least get a firsthand glimpse at a writer's capabilities, style, and professionalism before exploring a longer term relationship.
You're also perfectly within your rights to ask a writer for a sample so you can evaluate their work for free.
Hat tip to Troy Libra for this tip.
---
6) Take the Conversation Offline
---
This was the ultimate goal from the beginning, right? You wanted to find an awesome writer or copywriter with whom you could pursue more exciting work, not just batches of SEO copy for $5 a pop.
One of the great things about Fiverr is that, while they don't encourage it, they don't forbid you from taking the conversation offline and pursuing assignments outside of their platform.
Once you've gone through the vetting process, found a pool of writers you like, ordered test gigs, and found the absolute best fit for your vision, it's often to take the conversation offline so you can start doing more impactful work outside the limitations of Fiverr gigs.

Just hit the Contact Me button, swap email addresses, and you're on your way.
---
Bonus Tips
---
Turnaround time: Quicker doesn't always mean better. A long advertised turnaround time can be a great sign that a writer is in demand and/or puts a good deal of care and effort into their work.

Ratings aren't everything: Yes, you can sort by rating and seller level to find top writers on Fiverr. But you may also find success with talented writers who are just dipping their toe into the Fiverr pool, rather than seasoned pros who are adept at maximizing their time for $5 gigs.

Be a pro: If you're going to expect top notch work from a writer, make sure you're prepared to give them all the relevant details of your project. What are your goals? What are you expecting? You'll get unpredictable results if you just ask for 500 words on "ice skating".
What are your top tips for buyers on Fiverr?
---
---
---
Disclaimer: I may receive compensation from products or services mentioned on my site, but I stand by any research, opinions, or advice I offer here.